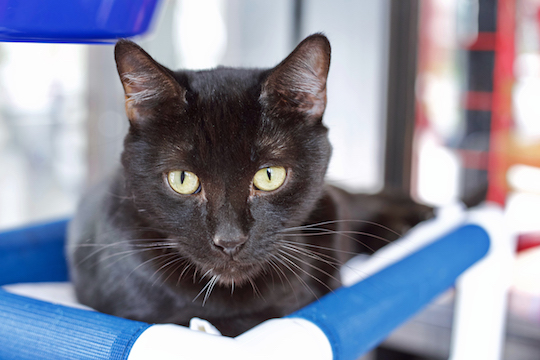 The following animals are ready to be adopted from the Brandywine Valley SPCA in West Chester.
Jirachi
With no luck finding a home for nine months, Jirachi hopes he won't have to spend another chilly season without a lap to snuggle on. This 4-year-old is FIV+, and while it sounds scary, he's expected to live a normal life with routine veterinary care. And Jirachi is so much more than that label; he's intelligent, inquisitive, playful, and totally lovable. Jirachi would enjoy the company of another low-key cat or an FIV+ cat, and he's great around children, too. He can be adopted at a fee you name through Sunday, Oct. 7.
Wakanda 
Wakanda is a sweet natured, easy going girl who hopes to find a family to love as she approaches her senior years. This 7-year-old is a little wary of strangers, but she warms up to be a belly rub-loving snuggle bug. She's also a regular in our running program, though she's more of a light jogger. Wakanda is open to meeting other dogs, and she'd prefer a kitty-free home. Wakanda can be adopted at a fee you name through Sunday, Oct. 7.
For more information, go to www.bvspca.org or phone 484-302-0865.
See Contributors Page http://chaddsfordlive.com/writers/
Comments
comments