Posted by Rich Schwartzman on September 27th, 2022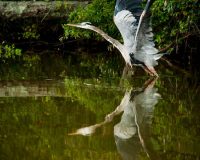 A heron takes off from deep shadow.
Posted by Rich Schwartzman on September 26th, 2022
The new exhibit at the Brandywine River Museum of Art is as much about the environment as it is about art. The exhibit is Fragile Earth: The Naturalist Impulse in Contemporary Art and features the work of four artists working with environmental themes. As BRM Senior Curator Amanda Burdan said, "We think this is such an important exhibition to showcase the two halves ...
Posted by ChaddsFordLive on September 26th, 2022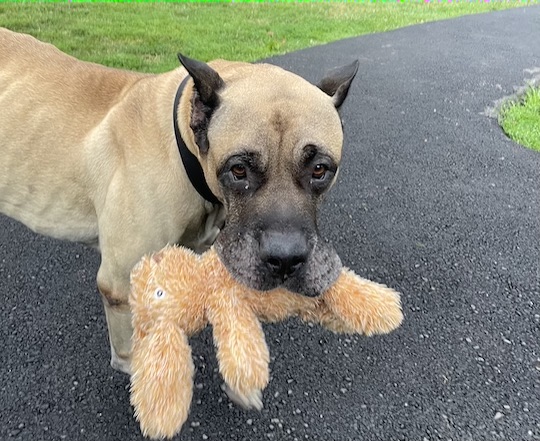 The following animals are ready to be adopted from the Brandywine Valley SPCA in West Chester. Tiger Tiger is a domestic shorthair who tries to live up to his name in size. This 20-pound "big cat" is looking for a home to stretch his long frame and relax. Tiger is big enough to take up your whole lap, all by himself, and prefers it that way, so if you're looking for ...
Posted by Rich Schwartzman on September 25th, 2022
The tattoo of the drum, the lilt and melody of the fife, and the haze of spent gunpowder drifted over Sandy Hollow this past weekend. More than 800 reenactors — military and civilian — commemorated the 245th anniversary of the Battle of Brandywine in the same location where the bulk of the actual battle was fought in 1777. Brandywine was the largest land battle of ...
Posted by Press Release on September 24th, 2022
The Brandywine Conservancy's "Bike the Brandywine" event returned for its fifth year on Saturday, Sept. 17, with nearly 400 cyclists enjoying a sunny day along the Brandywine Creek Greenway and surrounding Chester County countryside. This year's event featured three scenic loops filled with stunning views of the area's rural landscapes, rich history, and active ...
Posted by ChaddsFordLive on September 23rd, 2022
The next meeting of the Chadds Ford Business Association is 5:30 p.m. on Thursday, Oct. 6, at Galer Estate Vineyard and Winery, 700 Folly Hill Road, in East Marlborough Township. It's a wine and dine event with a personal tour by Lele Galer and is catered by Sovana Bistro. The cost is $35 for members and nonmembers alike. Go here for tickets.
Posted by ChaddsFordLive on September 23rd, 2022
PennDOT has announced the following road projects, which are weather-dependent and could affect drivers in the greater Chadds Ford area during the week of Sept. 24 through Sept. 30. Motorists are urged to allow extra time if traveling through one of the construction zones. Work schedules are subject to change. • Milling and paving work continues on Route 1 this ...
Posted by ChaddsFordLive on September 23rd, 2022
Unionville High School announced that 15 UHS students were named National Merit Scholarship semifinalists. "We are so proud of the 16 students who have been recognized as National Merit Semifinalists," said UHS Principal Amy Jenkins. "Through their efforts and hard work, these students have distinguished themselves as exceptional academic leaders at Unionville High ...
Posted by Rich Schwartzman on September 22nd, 2022
Pennsbury Land Trust President Holly Manzone gave a brief presentation to township supervisors Wednesday in honor of the late Alma Forsyth, who founded the PLT in 1995. She announced that members of the land trust planted a tree this summer on township property in Forsyth's name. Manzone referred to Forsyth as a "tireless crusader" and a "driving force in founding ...
Posted by ChaddsFordLive on September 22nd, 2022
• A largescale reenactment of the Battle of Brandywine is this weekend, Saturday and Sunday, Sept. 24 and 25, at Sandy Hollow in Birmingham Township. Activities, including the battle reenactment, go from 10 a.m. to 4 p.m. on Saturday, and 10-3 on Sunday. More than 800 military reenactors, plus camp followers will take part. The event and parking are free. This year ...
Posted by Victoria Rose on September 21st, 2022
A retrospective of the work and life of an artist is a one-of-a-kind exhibition. Beyond simply art, it is a chance to delve into the mind and the stories which lay underneath canvases and paint. The Philip Jamison Retrospective, now on view at the John H. Baker Gallery in the E. O. Bull Center for the Arts at West Chester University, is a stellar example. Jamison may ...