Posted by Rich Schwartzman on July 22nd, 2017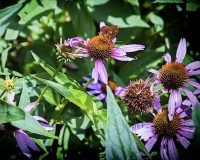 A butterfly takes a break from fluttering by.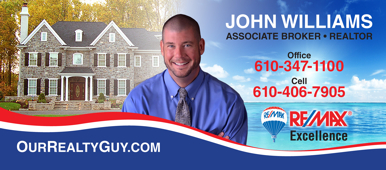 Posted by Dr. Kayta Gajdos on July 22nd, 2017
Elizabeth Minuchin, in "The Evil of Banality," argues that when people don't think critically, they simply "follow" and can become agents of evil without questioning the morality of their actions. An evil system, she says, only works when ordinary people carry out its orders. The work of Philip Zimbardo corroborates her premise. He and his colleagues devised the ...
Posted by ChaddsFordLive on July 21st, 2017
PennDOT has announced the following road projects, which are weather-dependent and could affect residents in the greater Chadds Ford area during the week of July 22 through July 28. Motorists are urged to allow extra time if they are traveling through one of the construction zones. •  Lane restrictions are scheduled on Newark Road between Route 41 and Big Toe Road in ...
Posted by Warren Cook on July 21st, 2017
As a business owner, it is a great feeling when you have examined your workforce and designed an effective infrastructure for your employment practices. Policies were carefully and deliberately designed to educate the workforce on expectations, communicate benefits and programs, and establish guidelines for workplace behavior and job performance. Prior to issuance of ...
Posted by Lora B. Englehart on July 20th, 2017
Artist Jamie Wyeth, with his handsome looks and charm, has always left the ladies swooning. Since the death of his famous father, Andrew Wyeth, in 2009, however, Jamie has taken on an almost avuncular persona when talking about his father's art and growing up Wyeth. For local residents, his stories are not new, but they are so funny, no one minds hearing them again. ...
Posted by ChaddsFordLive on July 20th, 2017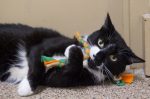 The following animals are ready to be adopted from the Brandywine Valley SPCA in West Chester. Manny Boy Manny Boy is as irresistible as he looks. This sweet and gentle lap-cat loves affection. He also enjoys a little playtime, as 12 years old is just a number to him.  Manny Boy is FIV+, which means he needs an indoor home with a healthy diet and routine checkups to ...
Posted by ChaddsFordLive on July 20th, 2017
• Celebrate the summer season finale of Winterthur After Hours on Friday, July 28, with the sounds of Los Monstros. There will also be the beer garden, sunset tram rides and guided garden strolls. Cost for the event is "Pay What You Wish." Garden Strolls are at 6:15 and 7:15 pm. Call 800-448-3883 for more information or to reserve your spot, or ...
Posted by Rich Schwartzman on July 19th, 2017
The merchants in Olde Ridge Village found a way to break the doldrums of summer heat and humidity with a Christmas in July event on July 19. There were a moon bounce and a dunk tank along with free food, water ice and other munchies. One of the merchants isn't even a merchant at the shopping center yet. Ted Stavrakis, formerly of Teddy's Place, will be ...
Posted by ChaddsFordLive on July 19th, 2017
The Chester County District Attorney's Office and Chester County Coroner's Office announced that the presence of carfentanil, a synthetic narcotic used to tranquilize elephants, has been confirmed in a Chester County overdose death.  As a result of that overdose death, a Phoenixville man has been arrested by the Phoenixville Borough Police Department for Drug ...
Posted by Lele Galer on July 19th, 2017
West Chester University is steadily increasing the presence of art throughout its beautiful campus in West Chester Pennsylvania. The latest artistic space was created outside the entrance to WCU's Mather Planetarium, located off the intersection of Church Street and Rosedale Avenue.  Clay artist Rhoda Kahler was commissioned to create "Constellation" a mosaic ...
Posted by Jon "Doc" Hopkins on July 19th, 2017
You bring home a steak, cook it perfectly, enjoy every bite, and go to bed hours later, only to wake up not thinking of anything but the day ahead of you. That is fine for a day-to-day lifestyle, but occasionally, you need to escape. You need to wake up in the morning after dreaming about the meal from the night before. One way to ensure that happens…. Dry. Aged. ...