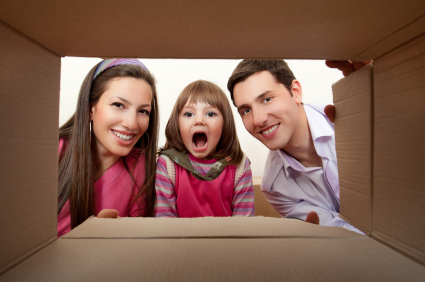 Nothing says spring like a "For Sale" sign in the front yard. Sure, homes are bought and sold throughout the year but spring is prime time for the real-estate market. 'Tis the season. I know. My husband's a realtor and I don't see too much of him these days.
According to the U.S. Census Bureau, approximately 12 percent of the US population will be moving this year. That's about 38 million people. So, if you're moving, you're not alone.
There is a lot to consider and keep track of when you are planning a move. The size of the homes you are moving from and into, as well as the peripheral changes that need to happen — such as utility transfers and school registrations — are just a couple of important move-management items to keep on your radar.
For each category of change you need to consider, I suggest you ask yourself these three questions: Where are we going? When are we going? What needs to change?
These questions will be a simple tool that can support you from the day you decide you are moving to the day you are sitting drinking tea in your new home. Asking and answering them can and should be done by each member of your family that will be involved, from oldest to youngest.
Here's how it works:
Storage:
Where are we going? - In my new home I will have _______ (more/less) storage space.
The answer will help you decide whether paring down what you own and bring with you is necessary prior to moving day. Carrying less can save you money now and time later, but if there's plenty of extra space in your new residence then doing this now may be a waste of time better-spent.
When are we going? - We are moving in ________ (month/season).
Knowing this answer will help you decide what to start packing first. Purge excess to prepare to stage your home: what household items will still be of use, what can be shed and what can be stored? Moving in the summer? Purchase two wardrobe boxes for each family member. Let everyone pack up winter-wear now, including jackets. Put extra blankets that won't be needed until winter in the bottom of each. Tape up your holiday boxes.
What needs to change? - In my new home I will/won't need ________.
Moving from Chicago to Florida? You may first want to sell the snowblower and donate the snow shovels and salt.  Conversely, all the beach-related decor, along with pool supplies and weathered beach-wear used in Florida can be pared down prior to your move to Michigan.
Schools:
Where are we going? –  My new school requires ___________.  If you need a physical for the new school you may want to get one before you move with the doctor you already know (pick up a copy of the family medical records while you're there). What are the new school colors? Mascot?
When are we going? – Notify the current school of your move-date so they can prepare transcripts in time to take with you. Make sure items on loan, such as textbooks and band instruments and uniforms get turned-in before you go.
What needs to change? – Does your new school have a summer reading requirement that you need to start working on? Are you giving up or adopting a school uniform? What are the cell-phone policies in the new school? Will you have a locker? Will you walk or take a bus?
Continue going down the list and ask these three question with each moving category that you and your family members need to address: utilities, jobs, clothing, pets, doctors, home-decor. Encourage each person to brainstorm the areas that will affect him or her the most. Answers can be put into list format so that they can be checked off as accomplished and, when it's all done, you can relax knowing that all bases have been covered.
*Annette Reyman is a member of the National Association of Professional Organizers (NAPO®) and President of its Greater Philadelphia Chapter. To contact her for organizing work, professional unpacking, productivity support, gift certificates or speaking engagements call 610-213-9559 or email her at annette@allrightorganizing.com.Visit her websites at www.allrightorganizing.com and www.allrightmoves.com. Follow All Right Organizing on Facebook and Pinterest.

Comments
comments