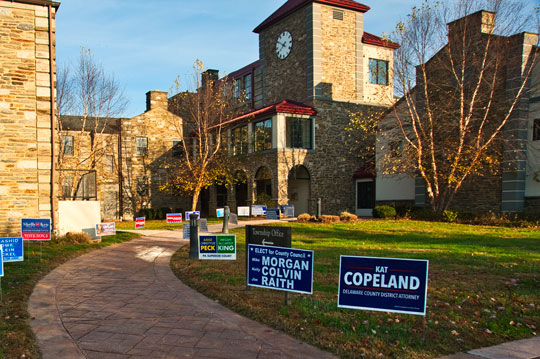 There will be new faces on a number of boards and some of those faces will have the Democratic Party label attached to the names behind the faces.
Democrats Erin Talbert and Jen Brown were elected to represent Region C of the Unionville-Chadds Ford School Board during Tuesday's election. Region C is comprised of  Chadds Ford and Pennsbury townships. Talbert and Brown topped Steve Jones and Jon Trigg who ran as Republicans. Talbert pulled a combined 1,479 votes from both townships, while Brown received 1,474 votes. Jones finished with 1,135 and Trigg ended up with 1,085.
Talbert and Brown will join incumbent John Murphy who won re-election cross-filing as a Democrat and Republican with a total of 2,036 votes.
In supervisors' races, Pennsbury incumbent Republican Charles "Scotty" Scottoline was defeated by Democrat Dan Boyle. That count was 837 to 589. In Newlin Township, Democrat James Cornell narrowly topped Republican Robert Shippee Jr., 280-265.
Republican incumbents Frank Murphy, of Chadds Ford Township, and Scott Boorse, of Birmingham Township, each earned re-election running unopposed in their races. Both currently serve as chairman of their respective boards. Also in Birmingham Township, Libertarian Scott Belles was elected auditor. Belles ran unopposed.
Concord Township will have multiple new faces on its council come January. Incumbent Republican John Crossan won re-election with 3,218 votes, and he will be joined by Republican newcomers Peter Pagano, Michael Harding and Dana Rankin. Pagano received 3,196 votes, Harding 3,122 and Rankin 3,056. Democrat Ken Hemphill finished with 2, 470 votes and Shelly Chauncy ended with 2,427.
County-wide, in both Chester and Delaware counties, Democrats were the big winners. Democrats took all three races for Delaware County Council seats, while Democrat Jack Stollsteimer defeated Katatoun Copeland for district attorney.
In Chester County, Democrats Josh Maxwell and Marian Moskowitz came out on top over incumbent Republicans Terrence Farrell and Michelle Kichline for Chester County Commissioner. Kichline came in third and will return to the commission as the minority party member, per county rule. Deb Ryan will be the new district attorney and Deb Maddox will be sheriff. Ryan and Maddox are both Democrats; Ryan is the first woman to be elected district attorney in Chester County history.
In an overnight email, Chester County Democratic Party Chairman Dick Bingham invoked an old English folk verse, "Remember, remember the fifth of November."  That rhyme is associated with Guy Fawkes Day. Fawkes was a member of the Gunpowder Plot, an attempt to blow up the House of Lords.
All results are unofficial until verified.

Rich Schwartzman has been reporting on events in the greater Chadds Ford area since September 2001 when he became the founding editor of The Chadds Ford Post. In April 2009 he became managing editor of ChaddsFordLive. He is also an award-winning photographer.
Comments
comments