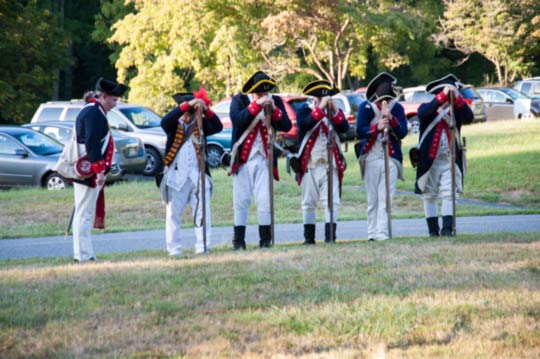 • Top photo: Re-enactors bow their heads in prayer during a 9/11 ceremony and the Brandywine Battlefield Park on Friday, Sept. 11.
• Due to the predicted weather, Concord Township's Community Day, originally scheduled for Saturday, Sept. 12, was rescheduled for Saturday, Sept. 19, at 4 p.m. Fireworks at dusk.
• A poetry reading by Welsh poet Tony Curtis will be held at the Brandywine River Museum of Art Monday, Sept. 21, from 2 to 6 p.m. Curtis will read poems inspired by the art of Andrew Wyeth and created over a 30-year period. This is Curtis' first visit to Chadds Ford. Curtis is the author of several collections of poetry and is the emeritus professor of poetry at the University of Glamorgan in South Wales. He has won several awards, including the Dylan Thomas Award. The event is free for members and included in museum admission.
• Natural Lands Trust is now accepting applications for its Force of Nature® volunteer training program. This comprehensive program teaches volunteers about tree planting, native plant gardening, habitat restoration, invasive plant identification and removal, wildlife management and more.  Program participants will learn about natural resource management from Natural Lands Trust's nationally-recognized land stewardship experts. This education will help volunteers gain valuable skills they'll put to use at Natural Lands Trust's nature preserves, and as stewards of the natural world in their communities. Training sessions for the 2016 class will begin on Saturday, Feb. 13, and continue through May 7. The registration deadline is Nov. 1. Program information, a complete training schedule, and applications are available at natlands.org/volunteer  or by calling Debbie Beer, director of engagement, at 610-353-5587, ext. 266.
• Check out Victory Brewing Company's popular Kennett Square Brewpub while making new business connections during the Women's Business Connection of Chester County's free Membership Appreciation and Membership Drive event. Savvy businesswomen will mark their calendars for Tuesday, Sept. 22, from 5:30 to 7:30 p.m., at Victory at Magnolia, 650 West Cypress St., in Kennett Square. Those who pre-register on time receive free admission and a free drink ticket, plus pay-as-you-go Victory beer and local wine, and free nibbles throughout the evening. Pre-register online by 9 a.m. Monday, Sept. 21. If pre-registered, the event is free! At the door, the price is $10 for members, $15 for non-members. Register today at: www.wbcchesco.com.
• A celebration of 10 years of success in assisting with Africa's AIDS crisis will occur on Saturday, Sept. 19, as HomeAID for Africa hosts an evening upscale barbeque in one of West Chester's historic homes. The $60 event cost covers food, beer, and wine, and a donation toward the continuing work of HomeAID for Africa, which has raised funds by making and selling high quality crafts at area venues. In its 10 years, the organization has raised over $300,000, which has been sent directly to women and orphans in Malawi for pre-approved projects. For more information or to arrange to attend, contact Arlene Rengert at arengett@gmail.com or 610-696-2282.
• The Victory Brewing Co. is inviting area residents to lace up their sneakers on Sunday, Sept. 20, for Victory's Run for the Headwaters 5K. The race will weave through scenic Downingtown and finish at Victory Brewing Co. Register online to get your bib; pre-registration is open until 8 p.m. on Thursday, Sept. 17 at https://www.runtheday.com/registration/race_info/33686. Those who don't want to run may want to volunteer. To see the options, go to https://www.runtheday.com/registration/volunteer_signup/33686
• The Partnership for the Delaware Estuary has announced the winning images of its inaugural Stream Matters Photo Contest. The photos will be on display at the Delaware Museum of Natural History starting in mid-October. The winning photos in four categories – Splash of Fun, Urban Waters, Wild and Scenic, and Schuylkill River Valley Shots – can be viewed for free at the museum on Oct. 18, from 9:30 a.m. to noon. All of the entries can be seen online at http://ow.ly/S3kln.
• Visitors to the Delaware Museum of Natural History can take a rare and exciting look at the life of dinosaurs through their eggs, nests, and embryos in the newest special exhibit, Tiny Titans: Dinosaur Eggs and Babies, on view Oct. 10, through Jan. 10. This remarkable hands-on exhibit includes more than 50 authentic dinosaur eggs and nests collected from all over the globe - including those of each of the major plant and meat-eating dinosaur groups. Museum hours are Monday-Saturday 9:30 a.m.-4:30 p.m.; Sunday 12-4:30 p.m. Admission is $9 for adults, $7 for children (3-17), $8 for seniors, free for children 2 and younger and museum members. For more information, visit www.delmnh.org or call 302-658-9111.

See Contributors Page https://chaddsfordlive.com/writers/
Comments
comments