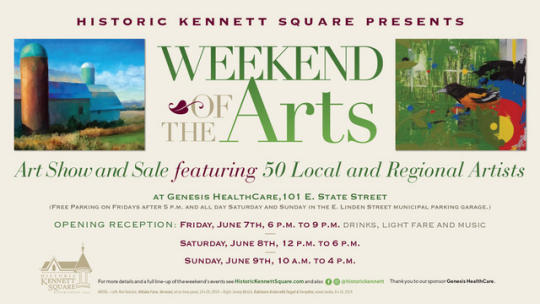 First Friday is upon us! This week, I will focus on the cluster of art events occurring in the Kennett Square area for the Weekend of the Arts. As one of Kennett Square's expanded art events, Weekend of the Arts promises a variety of lively offerings that will lead you throughout Kennett Square and slightly beyond.
The centerpiece of Weekend of The Arts, located at The Genesis Healthcare Building on State Street, features work by over 50 local and regional artists. Stop by for light fare, drinks, and music on Friday, June 7th from 6 - 9 p.m., Saturday June 8th from 12 - 6 p.m., and Sunday June 9th from 10 a.m. - 4 p.m. All work is for sale and each artist has created a unique piece for the exhibition in addition to their art portfolio.
On your way to the show, peruse the First Friday Flea Market, across the street from the  weekly Friday Farmers Market on State Street. In addition to their June exhibition, Square Pear Gallery will host an outdoor pottery demo by local potter, Bob Deane. Artist studios along state street will be open to the public in Kennett, including Rusty Nelson Photography Gallery, Bob Jackson, Peter Willard, and April Heather Art studios - all located in the de facto art building/American Legion block of State Street. Sheridan Lawyers will be showing work by Trisha Mae. Stop in to newly revamped Marche, for a group exhibition featuring Ellen Catanzaro, Carol Bassett, Gordon Carlisle, Katee Boyle, Orfeo Quaqliata, Kelly O'Neal, Kader Boly, and Susan Hable.
Are you looking for something more interactive within the event? Have you stopped by Clean Slate yet? Across from Genesis on Union Street, Clean Slate will host a Weaving Workshop from 6:30 - 8 p.m. Okay, all of that was just FRIDAY.
Satu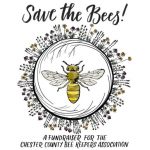 rday, in addition to the Genesis exhibition, there will be a local author book signing by Kate Braithwaite from 10 - 12 noon at the Kennett Library. Braithwaite is the author of The Girl Puzzle: A Story of Nellie Bly. Fundraiser, "Save the Bees" at KBC will feature pollinator themed artwork from local artists helping to raise funds for the Chester County Beekeepers Association from 2 - 6 p.m. Partake in some honey mead and beer on tap, as well as bee trivia, and pick up a tee-shirt designed by the fabulous local calligrapher/designer Merely Mere!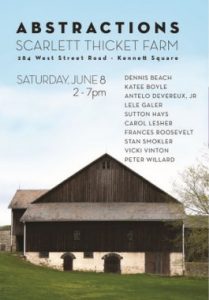 Next, stop by Scarlett Thicket Farm for the annual group exhibition, "Abstractions" hosted by Peter Welling and curated by Stan Smokler. Located in the barn on Wellings bucolic farm property on 284 Street Road, this exhibition is one that is met with anticipation each year. This years featured artists include: Dennis Beach, Katee Boyle, Antelo Devereux, Jr, Frances Roosevelt, Sutton Hays, Lele Galer, Carol Lesher, Vicki Vinton, Peter Willard and Stan Smokler. Stop by for refreshments, art and a beautiful atmosphere from 2 - 7 p.m.
I hope you still have an art appetite on Sunday. Square Pear will host a jewelry making class with Diana Eldreth from 1 - 5 p.m. Also Sunday, Clover Market descends upon Kennett Square from 10 a.m. - 4 p.m. on Sunday at the Genesis Broad Street location. In fact, there's a free shuttle running from 100 Broad Street (across from Square Pear Gallery) down to the Genesis location. Phew! Art lovers have their work cut out.
As always tune in to Art Watch Radio on WCHE 1520 AM every Wednesday from 1-1:30 p.m. This Wednesday, tune is as Amie Potsic interviews Anna O. Marley, Curator of Historical American Art at PAFA.  Until next time!

Caroline​ ​Roosevelt​ ​is​ ​a​ ​writer​ ​and​ ​artist​ ​based​ ​in​ ​Kennett​ ​Square,​ ​PA.​ ​She​ ​received​ ​her​ ​B.A.​ ​in Art​ ​History​ ​from​ ​Connecticut​ ​College​ ​and​ ​a​ ​Post​ ​Baccalaureate​ ​certificate​ ​from​ ​Pennsylvania Academy​ ​of​ ​Fine​ ​Arts.​ ​She​ ​has​ ​previously​ ​written​ ​art​ ​coverage​ ​in​ ​Seattle,​ ​WA​ ​and​ ​Philadelphia, PA.​ ​She​ ​currently​ ​co-hosts​ ​Art​ ​Watch​ ​radio​ ​on​ ​1520​ ​WCHE.
Comments
comments