Happy Holidays! In step with of the rest of the country, I too, am entirely skipping over the Thanksgiving holiday and plunging right into December holiday madness and evidently, so is the local art and/or crafts bubble. So let's jump right into some of the seasonal offerings that will get you in the spirit.
I'd like to say that I'm a great gift giver, although, like most people who make sloppy self proclamations, I probably am not. If you fall into the same boat, you should check out the myriad trunk shows/craft markets/art sales sprinkled along the art scene landscape in the upcoming weeks. You'll be sure to pick up something unique and handmade.
Heron Crest Studios - 3100 Mount Road Aston, PA 19014
Located on the bank of the Chester Creek in Aston, PA, I would never have found Heron Crest had I not been on a specific mission to seek it out. And that's what I love about it. In 2007, owners Claire Brill and Heidi Hammel created this space on the second floor of an old mill. It includes 19 studios, a gallery space, and hosts workshops at their artists request. Looking out of expansive windows onto the creek and adjoining woods creates a calming environment that envelops you as you peruse the studios.
Although primarily open by appointment, Heron Crest is hosting the second of their two week Show and Sale this weekend 11/18 - 11/19 from 11am - 5pm. I highly suggest you check out this spot, as there's something for everyone. The featured artists come from a variety of disciplines including jewelry, painting, digital video, photography, print making, quilts and vintage patterns, mixed media and pottery. When I visited, I almost walked out with a felt hat or two. Just plug the address into Waze and check it out!
The Palette and The - 120 East Main St Elkton, MD 21921
The Palette and The Page is a woman owned gallery in Elkton, Maryland. If you're up for the short hike, you'll find an eclectic mix of paintings, sculpture and crafts. They feature artists from varying backgrounds. Currently Palette and Page is hosting guest artists, Rob Sigafoos and Katie Joy Nellis. Kennett's own Rob Sigafoos of Vinewood Forge has been featured on Lele Galer's Art Watch radio show and has work sprinkled throughout Kennett Square. At this point, his style has becoming a recognizable trademark of the Kennett aesthetic. He created the K2 Sculpture along State Street, as well as the outdoor sign of my favorite local haunt, Philter Coffee.
Katie Joy Nellis creates oil portraits on wood. She studied at Gordon College in Massachusetts and then in Orvieto, Italy. Her work blends traditional, and at times purposefully vintage, portraiture with rich, flowing streams of color to create an abstract and complex composition. Joy Nellis and Sigafoos create a harmonious team in their exhibition Flow of Oil, Curve of Steel-on view through November 25th.
The Palette and The Page is also hosting a Trunk Show on Saturday, December 9th from 11 a.m. to  2 p.m. Their featured artist is buddying jewelry maker, Katherine Weber. At just 11 years old, she is certainly emerging and at an impressively young age.
Wayne Arts Center - 413 Maplewood Ave, Wayne, PA 19087
This weekend, Wayne Arts Center will be hosting a Craft Holiday Shopping Weekend on Saturday 11/18 from 10 a.m. to  5 p.m. and Sunday 11/19 from 10 a.m. to 3 p.m. If you feel like going on a pretty drive through the Main Line this weekend, I suggest making Wayne Arts Center a spot on your tour. A beautifully renovated building, there's always a few featured shows in rotation as well as several workshops ranging in genre from cooking classes to pottery. This weekend, however, they'll be featuring wares for sale including apparel, jewelry, ceramics, home decor, gifts and cards and cuisine.
If you're just window shopping, and want to peek into the current exhibits, you can catch the last day of the following shows (all of which end on 11/18):
Imprint and Mark: The Language of Perception
Fall Members Exhibition 2017
Reflections of Betty Newitt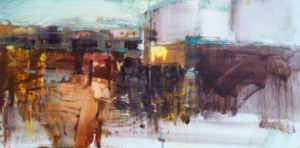 Imprint and Mark: The Language of Perception is an interesting collaborative show featuring the work of three PAFA alumni, Roger Chavez, Mashiul Chowdhury, and Georganna Lenssen. If Chowdhury and Lenssen's work looks familiar, they both exhibited at Church Street Gallery in West Chester. Lenssen is currently represented in West Chester by Church Street Gallery. I'm particularly drawn to this show as the work from each artist does draw from the tradition of landscape, or at least honors that style, while turning it on its' head with thick color blotches, scratched surfaces, or minimalist composition. The correlation between these artists and the Brandywine tradition may seem tangential at best, but the colors (whether the muted wintry tones of Chavez which evoke Andrew Wyeth's bleak, snowy landscapes, or Lanssen's more autumnal palette which mirrors the bucolic fields of Chester County) grab at a nostalgic and less tangible nod to the art of the region. Go this weekend, before they start dismantling!
The Creamery - 401 Birch St. Kennett Square, PA 19348
The second annual Kennett Holiday Village Market will land at The Creamery for two weekends this year, 12/2 and 12/3, as well as 12/9 and 12/10 from 11 a.m. to 6 p.m. After receiving overwhelming community acclaim last year, this outdoor market has expanded to a second weekend. Featuring over 40 artisans, 12 bands, food trucks, hot and cold beverages of varying types (wink), the Holiday Village Market provides a magical winter wonderland backdrop to the otherwise thankless task of buying presents for other people. Last year, I pretty much started and completed my holiday shopping here. Meredith Langer of Historic Kennett Square lovingly selects vendors from the tri state area to share their unique wares. If you worry about finding something unique for your loved ones, look no further. Not even Etsy gets this good.
In addition to excellent handmade wares, fantastic food trucks, and fun music, The Holiday Village Market also features workshops, an ice sculptor, tree sale, and maybe Santa and his reindeer? Find out more at www.kennettholidayvillage.com

Caroline​ ​Roosevelt​ ​is​ ​a​ ​writer​ ​and​ ​artist​ ​based​ ​in​ ​Kennett​ ​Square,​ ​PA.​ ​She​ ​received​ ​her​ ​B.A.​ ​in Art​ ​History​ ​from​ ​Connecticut​ ​College​ ​and​ ​a​ ​Post​ ​Baccalaureate​ ​certificate​ ​from​ ​Pennsylvania Academy​ ​of​ ​Fine​ ​Arts.​ ​She​ ​has​ ​previously​ ​written​ ​art​ ​coverage​ ​in​ ​Seattle,​ ​WA​ ​and​ ​Philadelphia, PA.​ ​She​ ​currently​ ​co-hosts​ ​Art​ ​Watch​ ​radio​ ​on​ ​1520​ ​WCHE.
Comments
comments