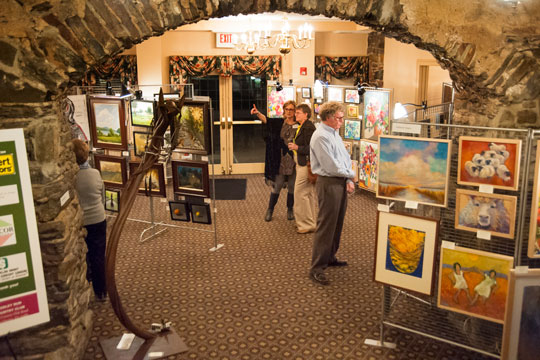 There is a stereotype of the country club set, wealthy, financially and politically savvy and, maybe, insensitive to others. But the members of Radley Run Country Club in Birmingham Township are eager to help out where help is needed.
That's the reason for the annual art show at Radley Run. During its eight years, the art show has raised money for several charities and this year was no exception. Money raised this past weekend was earmarked for Community Volunteers in Medicine and the Chester County Art Association.
According to Joe Mendez, the COO and general manager at Radley, "It's about being a member of the community; it's about giving back," he said during Friday's opening night reception for the art show.
When Radley raises money for charity, Mendez said, Radley wants the beneficiaries to be local, from Chester County. But there's something else, else as well.
"And we want to do something that makes our members feel good about being members of the club. Our members are in strong support [of fundraising efforts] because they want to be associated with an organization that does things and gives back to the community."
Ion addition to the annual Radley Run Art Gala, the country club also holds a tennis doubles tournament every August that raises money for AI DuPont Nemours and the group Blessings in a Backpack, Mendez said. That group puts food in backpacks and gives them to kids in the Kennett School District.
Mendez said Radley is also hosting a "food fight" for CMMD, a non-profit charity team of runners and non-runners who share a common mission to fight cancer. The "fight" is a cook-off among local and celebrity chefs, which raises as much as $100,000 in one night.
He said Radley also works with SHINE, another cancer-fighting charity, and is also looking to add a charitable pro-am golf tournament in the future.
Karen Delaney, one of the chairmen for this year's Art Gala, said the event has raised as much as $9,500, but has never broken the $10,000 threshold. This year's goal was to break that ceiling. Thirty percent of general sales go to the charities, but they get 100 percent of the proceeds from the silent auction. Delaney said more than 50 percent of the artists donated to the silent auction.
There were more than 50 artists showing their works this year, including Karl Kuerner and Lele Galer.

Rich Schwartzman has been reporting on events in the greater Chadds Ford area since September 2001 when he became the founding editor of The Chadds Ford Post. In April 2009 he became managing editor of ChaddsFordLive. He is also an award-winning photographer.
Comments
comments