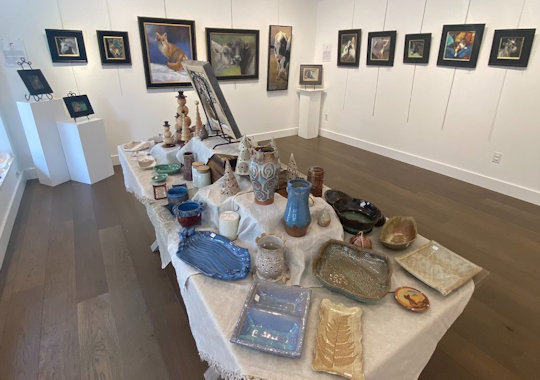 There is so much to celebrate this year in the Brandywine Valley! As we creep into the holiday season, decorations and cheer abound. Nowhere is that more evident than at the Square Pear Gallery in Kennett Square, where a new exhibit is ready to share joy to visitors and shoppers alike. "Wrap It Up" runs now through January 10th and is the perfect way to get into the spirit and find a truly unique creation for everyone on your list.
Featuring over thirty local artists, Square Pear Gallery is bursting with all types of creations. From gorgeous dramatic paintings to tiny clay creations, hand-carved winter décor to cozy accessories, the carefully curated exhibit showcases a fantastic array of art, crafts, and more. The local artists working in a wide variety of mediums are included in the show.
This is the third holiday show at Square Pear Gallery. "It was great to see so many people out to enjoy the arts again!" says Corien Siepelinga, the owner of the gallery. "The opening for this show was on Friday, November 12th, and it was our busiest one since reopening after COVID."
The Square Pear Gallery has been a welcome addition to the local art scene. Siepelinga took over the gallery in early 2018. Starting in the tiny storefront which used to house Mala Galleria, Square Pear moved to the current location which has much more space for exhibits, classes, and receptions. Both artists and visitors enjoy the wide selection of art, crafts, and gifts available. The gallery showcases local artists from about a two-hour radius of Kennett Square.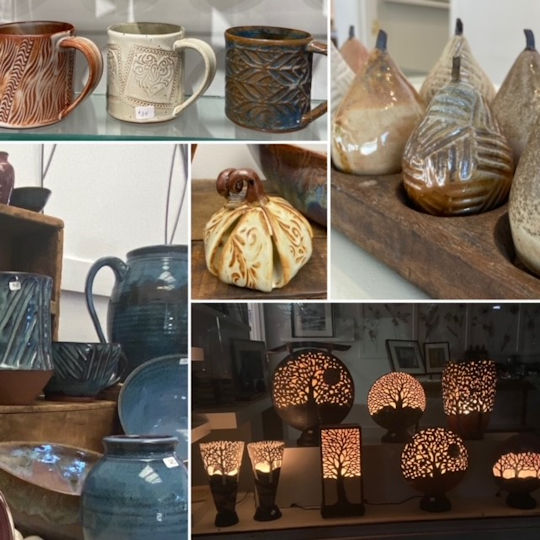 "Things at the gallery have been very busy this year as more and more people are traveling and coming to Kennett Square to enjoy Longwood Gardens and the Chester County area," says Siepelinga. There is certainly plenty to see. Longwood Gardens's "A Longwood Christmas" display is entirely updated for 2021. Titled "Fire and Ice," the display features more than half-a-million twinkling lights. You won't want to miss the Meadow, which has been transformed with a 200-foot-long curved tunnel covered in more than 20,000 color-changing LEDs. The popular Garden Railway is also back, and the Beer Garden filled with tents to warm up and enjoy a treat. The town of Kennett Square is ready to welcome visitors looking to extend their holiday excursion. "This week the trees and lampposts have been decorated again with Christmas lights and Kennett Square is getting that festive feel once more!" Siepelinga adds.
Towns big and small are certainly ready to welcome back visitors this holiday season. It seems that holiday traditions new and old have returned across the region. Kennett Square will be having their traditional Holiday Light Parade on Friday, November 26th, with more participants than ever before. The shops, restaurants, and other businesses will also host "Tinsel on the Town" on December 10th. The evening will feature music, games, food trucks, special shopping discounts, and more.
The Square Pear is stocked for all these events. Siepelinga recommends checking out "the wonderful wood snowmen and Christmas trees by Jack Hanson." Each item is handcrafted, ensuring a one-of-a-kind gift perfect to bring to any holiday celebration. "We also have sweet little glass mushrooms, which are a perfect way to say Merry Christmas from Kennett Square - the Mushroom Capital!" As we enter into a busy holiday season, many of us are looking to spread a bit of extra cheer. The wide selection of pottery from area artists would be perfect for hostess gifts. No need to find a vase for flowers when you bring them ready for display in a gorgeous piece of art!
This show features artwork by Patricia Walkar, Barbara Grant, Madeleine Kelly, Sandra Severson, Joe Milligan, Radhika Srinivas, Diane Cannon, Al Moretti, Kim Smith, Merrill Weber, Karen Weber, Lini Stevens, Ann Guidera-Matey, Jacqueline Henisee, Suzanne Kent, Hope Mead, Barbara Neville, Katy Winters,  Casey Lynch, Victoria Kavalerov, Jack Hanson, Lele Galer, Rhoda Kahler, Frank Wengen, Amy Iversen, Donna Porter,  Diane Cannon, Robin Sesan, Donna Porter, Corien Siepelinga, Lidia Kohutiak, Bridget Hughes, and Bill Bowman.
The Square Pear Fine Art Gallery is located at 200 E. State Street in Kennett Square, PA. More information, including about children's art classes taught by Corien Siepelinga, can be found at SquarePearGallery.com.

Victoria Rose (she/her) is an editor, writer, avid reader, self-described geek, and fan of all things creative. Her passion for words has led to her current career as a freelance editor, and she is the owner of Flickering Words, an editing service. When not wielding a red pen (or cursor), she loves reading books of all genres, playing video, board, and word games, baking ridiculous creations to show off on the internet, or enjoying the gorgeous outdoors. She is a board member of the West Chester Film Festival and part of the Thirsty Monsters, a team of streamers from around the world who fundraise for various charities supporting LGBTQIA+ and accessibility rights. She can be found online @WordsFlickering or the Brandywine Art Guide @BrandywineArtGuide.
Comments
comments