This Friday from 6 to 9 p.m. Mala Galleria at 206 East State Street will hold the opening reception for "New Leaf" paintings by local artist Joanne Mark. The exhibit debuts her recent exploration of new techniques to increase the textural complexity of her works as she turns over a new artistic leaf and incorporates metal leaf into her works.
Joanne explains, "Through the use of metallic leafing and textured colored grounds, I've created landscapes and florals that capture the luminosity and vividness of nature. This solo show is dedicated to the memory of my mother, Betty Geiger. Her light shines through these paintings."
Joanne's  vibrant paintings have a lot of variation, but there is a consistent undercurrent of positive energy and joy, that is very like the artist herself. Paintings range in size from small 5" x 7" to 16" x 40" and are reasonably priced from $200 to $850 for the largest works. Come and meet this wonderful artist and see her 45 works displayed at Mala Galleria this August, with reception from 6 to 9 p.m. during Friday's Art Stroll.
Saturday and Sunday, August 6th and 7th, Galer Estate Winery at 700 Folly Hill Road in Kennett Square will host "Medical History, Reimagined" with artworks painted by artist Sarah Bigham using pigments made from ground up medicines that she was prescribed during her medical battle through chronic pain. Sarah Bigham has taken her chronic pain history and turned it into a visual display that will be shown at the winery Saturday and Sunday from 3 to 7 p.m. with a lecture by the artist on August 7 at 3 p.m.
The paintings are abstract, beautiful and evocative, and the artist is inspiring to anyone to has suffered through a debilitating illness. Art sales from the show will benefit two wonderful organizations, the Interstitial Cystitis Association and the Reflex Sympathetic Dystrophy Association. Food and wine will be served during this inspirational show.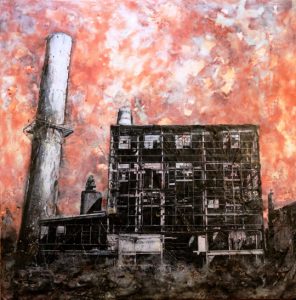 In West Chester, August 5th First Friday's Gallery Walk includes a dramatic new show at The Art Trust at Meridian Bank, entitled "VISTA- Landscapes", which offers three artistic interpretations of the urban landscape. Encaustic painter Erica Brown has five stunning photo-encaustic works, including "Mill" and "Trestle" that set stark industrial images in black and white against a waxy sky of fiery oranges. The compositions are very strong and the impact is very powerful. "Mill" is a show-stopper.
Also featured are Chester County painter David Katz and Wilmington art photographer Carlos Alejandro. David Katz has turned his artistic eye upward, as he paints portions of rooftops and structures amidst enormous expanses of sky. His work is accentuated by strong compositions and beautiful, vivid blues of his great skyscapes.  David is also showing in the Pennsylvania Academy of Fine Arts group show and The Lancaster Art Museum. He says, "Ever since moving to West Chester from Philadelphia all I noticed was how very big the sky is in the country. I try to find a conversation between the sky and its country surroundings and capture that dialogue on my canvas."
Carlos Alejandro's photographs offer intimate views of buildings and architectural details that emphasize powerful lines and perspectives. "VISTA" is a remarkable exhibition that leaves the viewer saying "wow" from one image to the next. The show runs through September 9th, with an opening reception Friday August 5th from 5 to 8:30 p.m. at their location at 16 West Market Street in West Chester.
Also in West Chester, visit the excellent Church Street Gallery group show at 12 South Church Street,that goes through the end of August. Nine artists exhibit a variety of styles and media, chosen for their quality rather than for any themed gathering. This group show is a wonderful opportunity to check out the new works of these fine artists, many of whom do not show often in Chester County.
This Sunday, August 7, metal sculptor Stan Smokler opens his beautiful Marshall Bridge studio in Kennett Square from 5 to 8 p.m. After two weeks of his famous metal sculpture workshops, his students and he will have an art show of their collected works from the sessions. It is always a lively party, and such an inspiring event. The event is a great way to congratulate the artists on their new works and enjoy art in a lovely setting with other artists and patrons. Every year Stan has two back to back workshops where he teaches a small group of people the fundamentals of steel art welding. The waiting list is long, so it is a good idea to sign up for next year's class well in advance.
Farther afield, in Wilmington, Chester County abstract painter Su Horty will be exhibiting "Color Pops" August 5 to 26 at the Mezzanine Gallery at 820 N. French Street in Wilmington. The opening reception is from 5 to 7 p.m. where you can meet this wonderful artist and se her latest dazzling color filled canvases.
A is for Art in August!

Lele Galer is an artist who has chaired numerous art shows, taught art history and studio art, public art and has chaired, written and taught the Art in Action Art Appreciation series for the UCFD schools for the past 12 years. She worked at the Metropolitan Museum of Art, and wrote for the Associated Press in Rome. She has been dedicated to Art History and art education for most of her adult life. Lele and her husband Brad own Galer Estate Winery in Kennett Square.
Comments
comments