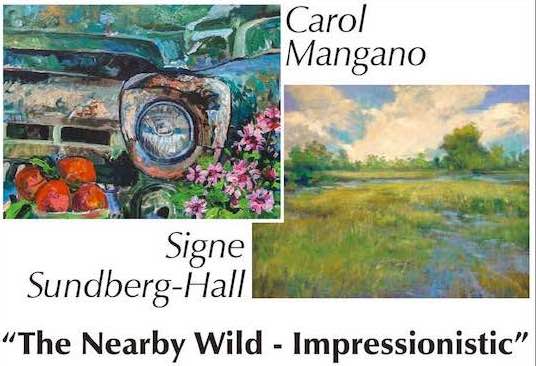 A new exhibit at Barbara Moore Fine Art in Chadds Ford features the works of Signe Sundberg-Hall and Carol Mangano. According to Moore, the exhibit — The Nearby Wild -Impressionistic — is "a good mix of Carol's vibrancy and Signe's softness. They don't compete. Yin and yang work together."
Sundberg-Hall, whose palette is soft, works landscapes that she refers to as "the natural atmosphere of Chester County."
Mangano's palette is bolder, but changes with the season and even the time of day. She said she tries to "capture the essence of the scene or the personality of the still-life." She is also a true plein air painter who does all the work outside at the scene.
Barbara Moore Fine Art is located in the Barn Shops on Route 1 — 1609 Baltimore Pike — in Chadds Ford Township. The exhibit runs through Nov. 6.

Rich Schwartzman has been reporting on events in the greater Chadds Ford area since September 2001 when he became the founding editor of The Chadds Ford Post. In April 2009 he became managing editor of ChaddsFordLive. He is also an award-winning photographer.
Comments
comments