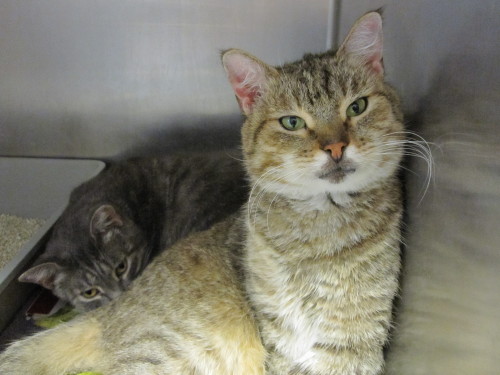 Sabrina is an adult spayed female domestic short hair cat
who is currently available for adoption at the Chester County SPCA. Sabrina came to the shelter with her
sister, Sugar, as well as almost 60 other cats that were living in poor
conditions. Don't be fooled,
though, Sabrina's struggles have only made her appreciate the finer things even
more! Sabrina is a very sweet and
affectionate cat. She is also very
bonded with her sister, Sugar, so we are trying very hard to find these two
girls a home together. Sabrina and
Sugar are eligible for our Eagles Purrfect Play for Cats adoption incentive
program. This special program, made possible through a gift from the
Philadelphia Eagles Treating Animals With Kindness (TAWK) program, allows the
Chester County SPCA to offer a discounted adoption fee of only $25 for all
special needs cats or cats over the age of 5! If you are able to provide Sabrina and Sugar a home, visit
the Chester County SPCA at 1212 Phoenixville Pike in West Goshen or call
610-692-6113. Sabrina's registration number is 96799446. To meet some of the
other animals available for adoption, visit the shelter or log onto www.ccspca.org.

See Contributors Page https://chaddsfordlive.com/writers/
Comments
comments