Pennsylvania State Police
Avondale Barracks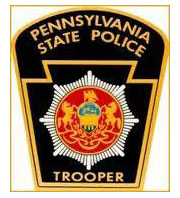 • State police said they cited Steve N. Goldberg, 35, of Philadelphia, for driving at an unsafe speed following a crash in Pocopson Township on Jan. 2. According to the police report, Goldberg was driving north on Route 52, just south of Pocopson Road, when he tried to negotiate a right-hand bend but was traveling too fast for conditions and lost control. He attempted to correct, the report said, but was unsuccessful in the attempt. His vehicle ran off the side of the road, struck a fence, a tree, and then a parked vehicle.
• Police are investigating a reported theft of almost $700 worth of merchandise from the Walmart in East Marlborough Township on Dec. 8.
• According to state police, David Rueda, 18, of Oxford, was arrested on retail theft charges. A report said Rueda pushed a shopping cart filled with almost $300 worth of merchandise through the automatic doors at the East Marlborough Walmart on Jan. 4. He returned when asked by a loss prevention officer to sign some papers and was subsequently arrested.
• Police are investigating the theft of a $138 bottle of cologne from Ulta Beauty on Route 1 in East Marlborough Township. The robbery reportedly happened during the afternoon of Jan. 8. According to the report, a male entered the shop, removed the cologne bottle from a security package, concealed the bottle Giorgio Armani Code Profumo Cologne, and left the store. The suspect, who was not described in the report, is believed involved with theft at Ulta in Newtown Square.

See Contributors Page http://chaddsfordlive.com/writers/
Comments
comments