• Charges are pending against two juveniles who allegedly stole seven laptop computers from Garnet Valley Elementary and Garnet Valley Middle schools on June 9.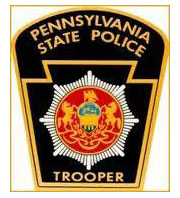 • The driver of a Freightliner truck was cited for excessive speed after he rear-ended two vehicles that were stopped at a red light on Route 1 at Cheyney Road on June 6.
• A 30-year-old woman from Wilmington, who police did not name, was arrested for DUI following a traffic stop on Route 1 at Creek Road in Chadds Ford Township on June 3. No injuries were reported.
• An unnamed driver was cited for following too closely following an accident on southbound Route 202 in Chadds Ford Township on May 22. State police from the Media barracks said the driver didn't maintain proper distance from the vehicle ahead of her and rear-ended the vehicle in front of her as they approached Brandywine Drive at 10:02 a.m.
• State police said Sareina M. Wooten, 21, of Forty Fort, was injured and cited after an accident in which she ran a red light at the intersection of Routes 1 and 202 on May 23. Police said another car hit Wooten's after she entered the intersection against the light. She was transported to Crozer Hospital for observation.
• State police from the Avondale barracks said Mujahid Khabir Shakoor, 21, of West Grove, was taken into custody on retail theft charges for allegedly stealing from the Walmart in East Marlborough Township. The incident took place on June 17. A report said a Walmart employee stopped the accused at the door as he was trying to exit. He then gave police a false name and date of birth before being positively identified, the report said.
• Andrea Lynn Jones, 32, of Upland, was also charged with retail theft from the East Marlborough Walmart, police said. According to that report, police were notified of the incident the afternoon of June 11. Police were given a description of the suspect, the vehicle and which direction she had gone. A traffic stop was made on Route 1 at Route 52 and the suspect was taken into custody.
• On June 6, Nicole D. Kennedy, 43, was accused of retail theft at the East Marlborough Walmart while in possession of drugs and drug paraphernalia, a police report said.
• No names were given, but police said one driver was cited following a June 10 accident on Poquoson Road in Pocopson Township. Police said the driver struck another vehicle that he was trying to pass.
• Mushrooms Café on Route 1 in Pennsbury Township was robbed sometime between 5 p.m. on June 4 and 10 p.m. on June 5, according to state police. A report said $300 was taken.
• State police said Terrel O'Shea Thompson, 21, of Parkesburg, was found in possession of drugs and drug paraphernalia during a traffic stop on Route 1 near Schoolhouse Road in Kennett Township on May 3.
• A one-car accident on Union Street in East Marlborough Township led to a driver being charged with DUI. State police said Russell A. Walker, 61, failed to stop at a stop sign, drove across two lanes of traffic and over a median before striking a guardrail. The accident happened May 27.
See Contributors Page http://chaddsfordlive.com/writers/
Comments
comments