The Kennett Symphony of Chester County will present "Mendelssohn, Mimosas and More" on at 1 p.m. Saturday, April 1, in the Grand Ballroom of the Mendenhall Inn, on Route 52.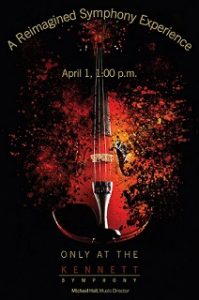 "Mendelssohn, Mimosas, and More" is a brand new, informal, hour-long concert event that you won't find anywhere else, according to a press release. The orchestra will be seated in the middle of the Grand Ballroom, with the audience seated around the orchestra.
With musical insights from Music Director, Michael Hall, and food and drink available during the concert, it will be a relaxed and engaging event. Audience members will have the opportunity to move their seats mid-way through the performance so that they may experience the symphony from more than one vantage point during the concert.
The symphony will perform Mendelssohn's Symphony No. 4 "Italian" during the one-hour concert. Hall will give insight into each movement before they're performed.
Tickets are $25 for adults in advance, $30 at the door; $10 for students. There is a $5 order fee. Price includes the concert, hors d'oeuvres, a mimosa, and free parking. A cash bar will also be available throughout the event for the purchase of additional beverages.
To order tickets visit www.kennettsymphony.org or call 610 444 6363.

Comments
comments