• Pennsylvania State Police from Troop K, Media barracks, were investigating a report of a vehicle stolen from Concordville Nissan's remote lot on Route 202 in Concord Township. The theft happened sometime between noon on Jan. 31 and 10 a.m. on Feb. 1.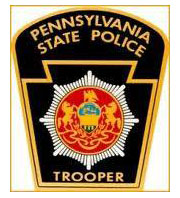 • Wojciech Dabrowski, 34, of Philadelphia, was arrested for attempting to buy a firearm at Targetmaster in September, according to state police. The report said he was denied because of the results of a required background check.
• Cynthia Heather Thompson, of West Chester, faces criminal charges for DUI, according to a state police report. Police from the Avondale barracks said Thompson was arrested following a Feb. 11 traffic stop at Route 52 and Red Bridge Lane. The stop was made at 9:15 p.m.
• State police said Zeeherah Eugene, 20, of West Chester, faces theft and drug charges following an incident at the Walmart in East Marlborough Township on Jan. 28. According to the police report, Eugene concealed store merchandise in her purse, went through the checkout line paying only for items in her cart, not what she had placed in her purse. On further investigation, police said they also found a small amount of marijuana.
• Southern Chester County Regional Police said Anthony Santiago, 26, of Kennett Square, was taken into custody on suspicion of DUI on Feb. 10. A report said Santiago was driving the wrong way in the unit block of Exchange Place, continuing into the 100 block of Railroad Avenue. Santos said he was lost and was following his GPS but, police said, the odor of an alcoholic beverage was detected on his person and he was exhibiting other signs of possible impairment. He was taken into custody after failing field sobriety tests.
• Edgar Reynosa-Vasquez, 27, of West Grove, was charged with aggravated assault, simple assault, recklessly endangering another person, and harassment on Feb. 11, according to Southern Chester County Regional Police. A report said police responded to a call in the unit block of Exchange Place and found a woman who said Reynosa-Vasquez had struck her in the face, choked and bit her. Police said she had injuries consistent with what she had told them. Reynosa-Vasquez was remanded to Chester County Prison in lieu of $50,000 cash bail.
See Contributors Page http://chaddsfordlive.com/writers/
Comments
comments