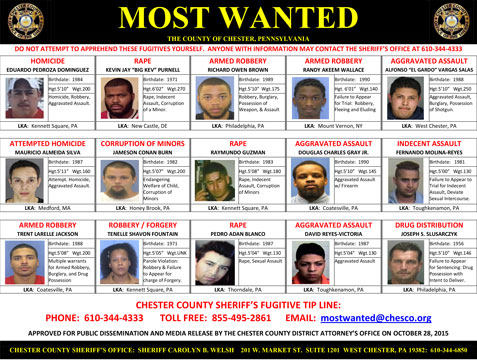 The Chester County Sheriff's Office has released an updated list of Chester County's most wanted fugitives and is seeking the assistance of the public to help track them down.
Chester County Sheriff Carolyn "Bunny" Welsh said, "The first public release of our Most Wanted list in July of 2014 resulted in the arrest of four fugitives who were featured on that list. We received a number of tips from our citizens in Chester County, as well as information from people in other states and even other countries. We are truly grateful for the public's assistance and greatly appreciate their support."
Welsh continued, "The Most Wanted list is the result of collaboration between all of Chester County Law Enforcement Agencies and the support of the District Attorney's Office. We are pleased to assist them with the release of this list."
The latest Most Wanted list can be found at www.chesco.org/sheriff and go to the "Most Wanted" link.
To submit information about any of the fugitives on the Most Wanted list call 610-344-4333, toll-free at 1-855-495-2861 or email mostwanted@chesco.org. For further information contact Lt. Suydam or Sgt. Sibley of the Fugitive Apprehension Unit at 610-344-6996.

Comments
comments