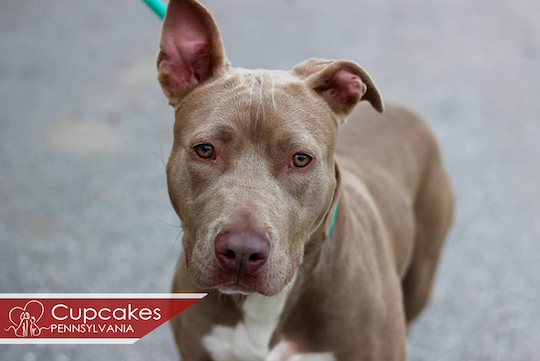 Come meet all the wonderful animals available now for adoption at the Brandywine Valley SPCA. All featured pets are "Name Your Price" adoption fee until Monday, Jan. 16. Not ready to adopt? Then sponsor a pet and provide a safe place for our companions to rest until they find their forever homes. Help us give them a second chance at a fresh start.
CUPCAKES
Cupcakes is my name and sweetness is my game. I'm a 1-year-old female mixed breed who was found as a stray. The nice people at the shelter have been taking great care of me. They think I was hit by a car. Having only three legs has not slowed me down. I am happy, social and love to give lots of hugs and kisses. I am currently available for adoption at Brandywine Valley SPCA. Come meet me and see if you can keep up.
TEDDY
Hello, I'm Teddy, as in Teddy Bear, and I am just as cuddly. I am a shy, sweet little brown haired cutie who is looking for a home and family to call my own. I'm a 4-year-old boy who walks nicely on a leash and always looks back to my person for a little attention and love. Are you the person or family I am going to receive that love from forever? I am neutered, microchipped and up to date on vaccinations-come meet me.
SHAY
Hello, my name is Shay. I arrived at the Brandywine Valley SPCA in the fall of 2016, in rough shape. I was skinny with scabs covering me and was quite a site. I healed and cleaned up nicely and there is no mistaking how adorable I am. I was lucky enough to be adopted but I was recently returned because I chased the cats. Sorry, isn't that what dogs do? I am a smart pooch who knows how to sit and stay, and I am housebroken. I'm feeling overwhelmed to be back in the shelter and would love it if I could find a home soon. I'm spayed, microchipped and up to date on vaccinations, and my suitcase is packed and ready to go. I'm at the Everyday Adoption Center at PetSmart in Dover waiting to meet you. Come on friends, let's make 2017 our year.
NIKE (BONDED WITH M&M)
Hello. Our names are Nike (featured) and M & M. We are both 5 years old and are both females. My sister Nike and I were brought in after our family moved and couldn't take us with them. We are still adjusting to being in the shelter, but are quickly warming up to staff and volunteers. We are sisters from the same litter so we would best if kept together. We are also both front declawed so would be best living indoors. We are both mellow and low key, but enjoy the company of people so we can give them little nudges to be petted. We love the attention and if you feel our fur, we are as soft as silk, but without the expensive price. Please come in and meet us today.
M&M (BONDED WITH NIKE)
Hello! Our names are Nike and M & M(featured)! We are both 5 years old and are both females. My sister Nike and I were brought in after our family moved and couldn't take us with them. We are still adjusting to being in the shelter, but are quickly warming up to staff and volunteers. We are sisters from the same litter so we would best if kept together. We are also both front declawed so would be best living indoors. We are both mellow and low key, but enjoy the company of people so we can give them little nudges to be petted. We love the attention and if you feel our fur, we are as soft as silk. But without the expensive price. Please come in and meet us today
STAR
Hello, my name is Star, and I am a gorgeous brown and black tabby who arrived at the Brandywine Valley SPCA when my former family could no longer care for me. The change in my situation has been understandably scary, and I am a little timid, but with friendliness and gentleness from my two legged pals my wonderful personality is shining through. I love to be petted and will purr beautifully with approval when shown such attention. I'm spayed, microchipped and up to date on vaccinations and would love to find a family to love forever. Just remember, when you wish upon a Star…

See Contributors Page https://chaddsfordlive.com/writers/
Comments
comments