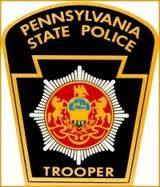 • State police from the Media barracks are investigating a case of theft and criminal mischief that occurred sometime between 4:30 p.m. on Nov. 8 and 7:15 a.m. on Nov. 9. A report said troopers two white Ford Transit units with broken windows and body damage at Braxton Way and Fellowship Drive in Concord Township. Troopers also found a backhoe that was stuck in the mud in a wooded area behind a parking lot. It was determined that the backhoe had been reported stolen from a construction site the night before.
• State police arrested a 28-year-old Ridley park man for DUI in Concord Township on Nov. 5. The driver, who police did not identify in the report, was pulled over for traffic violations at 2:24 a.m. on northbound Route 1 near Route 322.
• A Utah man was cited for causing a two-vehicle crash on Route 52 at Ballintree Lane in Pocopson Township, said state police from the Avondale barracks. Police said Joseph D. Donnell, 49, of Kamas, was traveling southbound on Route 52 on Wednesday, Nov. 9, at 4:28 p.m. in a 2004 Honda Civic when he lost control while negotiating a curve, entered the northbound lane, and struck a 2009 Mercury Milan. Police said both drivers were wearing seatbelts and were not injured.
• On Thursday, Oct. 27, at 8 a.m., state police from the Avondale barracks received a report of an incident involving Realtor fraud in Pennsbury Township.  Police said an investigation is continuing.
• State police are investigating an incident of vandalism in Pennsbury Township. Police said a tire was slashed on a vehicle parked in the 1300 block of Brintons Bridge Road sometime between 6 p.m. on Sunday, Oct. 30, and 7:30 a.m. on Monday, Oct. 31.
• On Monday, Oct. 31, at 11:06 p.m., a resident of Red Lion Road in Pocopson Township reported an incident of identity theft, said state police. Police said someone attempted to open multiple accounts in the victim's name; an investigation is continuing.
• State police are investigating another instance of identity theft involving a victim in Pocopson Township. Police said on Monday, Nov. 14, at 7:02 p.m., someone used the victim's name to purchase a $62,000 Audi S5 vehicle from a dealership in Naples, Fla., even taking out a fraudulent insurance policy. Police said the victim learned of the transaction after receiving letters in the mail for various loans he did not authorize, along with forged paperwork for the vehicle's purchase, police said.
• On Sunday, Oct. 23, at 6:58 p.m., a West Grove woman failed to stop at a red light and rear-ended another vehicle on Route 1 and McFarlan Drive in Kennett Township. State police said Jesse L. Greenwalt, 25, was determined to be driving under the influence of alcohol and a controlled substance and was subsequently arrested.
• State police from the Avondale barracks said they cited a 35-year-old West Grove woman for following too closely and causing a chain-reaction collision on Monday, Nov. 7, at 7:34 a.m. in East Marlborough Township. Police said Monica B. Guepet was driving a 2012 Ford Escape on Route 1, north of Village Lane, when she struck a 2012 Fiat 500 in front of her that had slowed for traffic. The impact forced the Fiat's driver hit a 2014 Volkswagen Jetta. Police said Guepet was transported to Jennersville Hospital for suspected minor injuries; the other drivers also sustained minor injuries. All were wearing seatbelts, police said.

See Contributors Page https://chaddsfordlive.com/writers/
Comments
comments