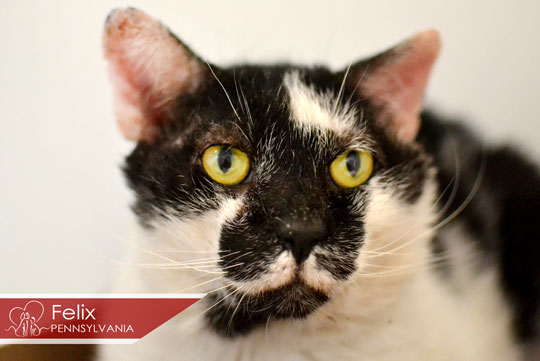 Come meet all the wonderful animals available now for adoption at the Brandywine Valley SPCA. All featured pets are "Name Your Price" adoption fee until Monday, Aug. 15. Not ready to adopt? Then sponsor a pet and provide a safe place for our companions to rest until they find their forever homes. Help us give them a second chance at a fresh start.
FELIX
Hi, my name is Felix, the most handsome and suave feline in the shelter. I'm laid back, extremely chill and I love attention. I love to hang out in "my box" during the day in the cat room, and I would love it if you had a box for me at home. I'm a simple guy with simple needs just looking for a good home. I'm a staff and volunteer favorite and I bet I would be your favorite too! I look forward to meeting you.
BUTTERBEAN 
Hey folks – my name is Butterbean! I'm a 3-year-old grey and white tabby looking for a loving forever home that I can settle into. I'm a big fan of personal space, so a home without children or other cats is preferable. I can definitely be sweet, but I can also be temperamental at times, so an owner who's had cats before and knows when to give me attention and when to let me be is a must. A quiet home is a plus too! If this sounds like you, I'd love to meet you! Won't you stop in and say hello?
MOM
Meom! Meom! Meom! That's what I hear all day long, help! They call me Mom because I came to the Brandywine Valley SPCA and had an adorable litter of kittens. My babies have all been adopted, so now I am looking for my very own forever home. I am a pretty laid back lady, I like other cats and would do well in home that had other felines. Ideally, I would like to be adopted by someone who does their own thing while allowing me to do mine – someone who also wouldn't mind spending nights in cuddling on the couch. If that sounds like something you would like to do, come say, "Hey." I need something more than kitten love in my life.
HARRISON
Hey, I'm Harrison, a year-and-a-half old red and white American pit bull terrier. When I first came to the BVSPCA I was so scared – my skin was so itchy and I barely had any fur. But now I look and feel fabulous. I love to give kisses and will jump and give you hugs if you ask. Walking well on a leash is one of my strong suits, I love Milk Bones (but bacon meaty treats are my favorite), and I need a companion with a lot of love to give – someone who understands my need to be close to them. Take me for a walk and see how awesome I am. I just need that one person who will return all the love I have to give. Could you be the one?
TISH
Hi, my name is Tish and I am an adorable young dog who arrived at the Brandywine Valley SPCA as a stray. I am spayed, microchipped and up to date on vaccinations. I live to impress people- I listen to corrections, am food motivated, which means easier to train, and I love dogs. I love toys, tennis balls, walks and giving kisses. I'm still a young dog so I would need a little training, but I am totally up for that! Won't you come meet me and allow me to be a part of your family?
LUCAS
Hi, my name is Lucas, and I am a healthy, happy, handsome terrier mix who is thrilled to be available for adoption. You see, I didn't always look this good. It's been a long road for me to get to this point. When I arrived at the Brandywine Valley SPCA, I looked nothing like I do now. I was extremely emaciated and covered in bite wounds. Because of the law, I had to be placed on a six-month quarantine. While I waited out my time, I healed. My bite wounds healed. I gained 30 pounds and am now a strapping young chap. I learned some doggie commands and how to walk nicely in a leash and harness. One thing I didn't have to learn was how to love. Even in my sad, injured, weakened state, I knew how to give and receive love right from the start and I haven't stopped since. I'm finally ready to go home with a family and I can't wait to see what it is like to live the good life.

See Contributors Page https://chaddsfordlive.com/writers/
Comments
comments