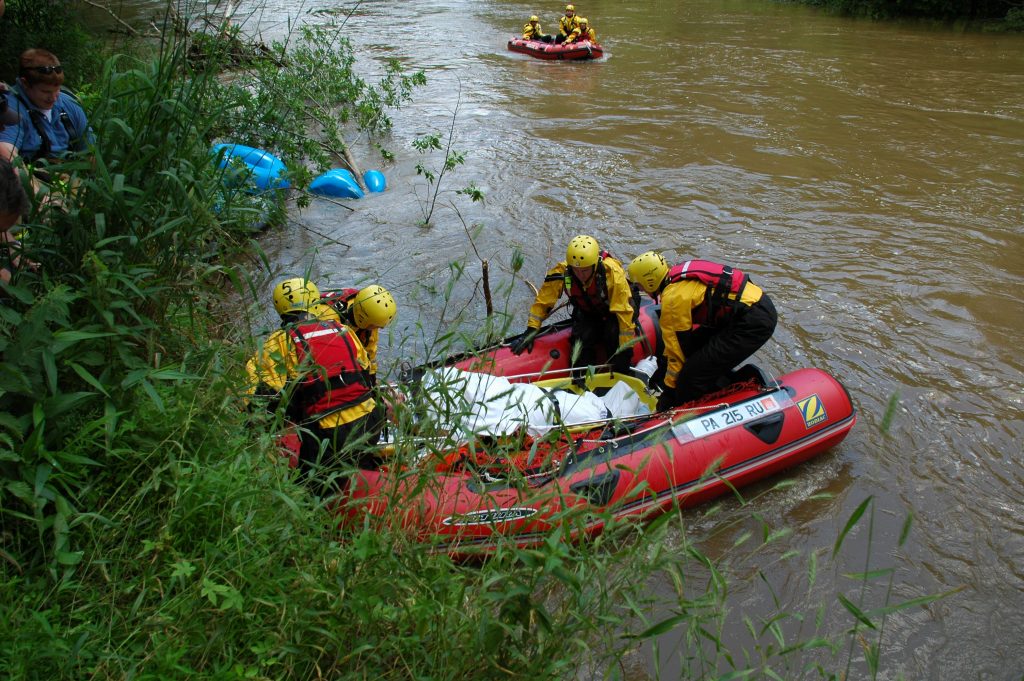 Two people were transported to Crozer Chester Medical Center Sunday following a tubing accident on the Brandywine Creek in Chadds Ford Township.
Rescue teams were called to the creek for the second time in less than a week after a group of about 21 scouts – boys and girls – ran into trouble while tubing the creek that was still running hard and fast after rain storms the previous week.
Neither the identities of the injured, nor the extent of the injuries, were released.
Squads from Concordville, Kennett and Longwood responded to the call, with Kennett and Longwood putting boats into the water. One of the victims was transported in one of the boats back to the museum parking lot that was used as a staging area for the rescue.
One unidentified Boy Scout, from Troop 443 of Boothwyn, said some of the tubers let go of the ropes and people got tangled up in trees and brush. The group came a stop about 200 to 300 yards south of the old railroad bridge at the Brandywine River Museum.
One of the adults on the trip was Chris Imburgia from Girl Scout Troop 51468 out of Boothwyn. She said the more experienced tubers were in the lead, but they started whistling and moving to the left bank of the creek when they realized the water was too rough and moving too fast for the group as a whole.
Imburgia said there was some panic within the group and that not everyone was sure how to get out of the tubes.
She said the trip was planned about two or three weeks earlier and that she had not heard about the fatal kayaking accident of last Tuesday.
In Tuesday's incident, two brothers were attempting to kayak the creek after a severe thunderstorm when their kayaks went under at a low-head dam just north of the Brandywine Picnic Park. Chris Miller, 28, of Yonkers N.Y., was pulled from the creek that afternoon and was pronounced dead at Chester County Hospital. The body of the other brother, 34-year-old Chad Miller, from Wilmington, was found Saturday.
Safety on the Brandywine Creek
Zeke Hubbard, of Northbrook Canoe Co. in Pocopson Township, said safety on the creek is essential and is a matter of both common sense and checking with those who know the Brandywine.
When in doubt if the creek is safe, stay out of it.
Hubbard said the creek is a Class One Waterway, meaning it is has low-lying tree limbs, light rapids, water that is relatively placid and calm.
"You can walk out of it. There's no problem with any major current."
But, would be boaters need to take some precautions.
"Check the water conditions with your local livery, people who know the water. They can tell you what the levels are and if it's safe or not safe to get in. It's just common sense. If you look at the Brandywine and it's turning chocolate, you can figure it's in flood stage and it will suck you down and pin you," Hubbard said.
Brandywine Outfitters, Wilderness Canoe Trips and Northbrook are the three groups on the water who know what's safe and what isn't. Hubbard said to check with any one of them to see if the creek is safe that day. And if they're not sending people out, it's best to stay on land that day.
He closed Northbrook Sunday because the creek was still too fast and rough for safe activities.
Hubbard stressed a difference between floodwater and white water. He said people get confused between floodwater and whitewater.
"Flood water will suck you down into a rolling ball or cylinder. If you get caught in that cylinder it pins you down against the bottom, and you stay there. White water pushes out on a flat, horizontal [plane.] You put your feet down stream and pushes you into an eddy, like a safe floating area behind a rock. ... White water will spit you out into a safe area."
Hubbard said the most dangerous time on the Brandywine is when it's beginning to get into the flood stage.
"It's still within its banks and the speed of the water has picked up. And that's what causes the mud; the water goes down and picks up the mud, flips sediment up off the bottom.
He said the creek was at that most dangerous stage last Tuesday when the Miller brothers had their accident. Compounding that was the fact they went over a low-head dam. Going over such dams will suck a boat down bow first, then grab boat and occupants in that rolling cylinder.
The Web site www.boatsafe.com/nauticalknowhow/lowhead.htm discusses low-head dams in an article by Virgil Chambers, executive director, National Safe Boating Council.
According to the article, the dams pool water as it flows over the top of the dam, then drops to a lower level:
"This drop creates a hydraulic, which is a backwash that traps and recirculates anything that floats. Boats and people have been caught in this backwash. A person caught in the backwash of a low-head dam will be carried to the face of the dam, where the water pouring over it will wash him down under to a point downstream called the boil. The boil is that position where the water from below surfaces and moves either downstream or back toward the dam. A person who is caught in a low head dam struggles to the surface, where the backwash once again carries him to the face of the dam, thus continuing the cycle."
The Pennsylvania Fish and Boat Commission Web site (http://www.fish.state.pa.us/safety.htm) offers the following information for people considering paddle sports:
Paddling sports are very popular recreational water sports in Pennsylvania. There are dangers that can be lessened with knowledge, preparation and practice. Primary hazards are capsizing, swamping or just falling out of the boat. Keep in mind that paddling is a "get wet" sport.
Paddling Tips:
• Wear your life jacket. Some 80 percent of all recreational boating fatalities happen to people who are not wearing a life jacket.
• Expect to get wet and dress properly. Even the best paddlers sometimes capsize or swamp their boats.
• Be prepared to swim. If the water looks too hazardous to swim in, don't go paddling.
• If you capsize, hold on to your boat, unless it presents a life-threatening situation.
• Scout ahead whenever possible. Know the river. Avoid surprises.
• Be prepared for the weather. Get a forecast before you go.
• Wear wading shoes or tennis shoes with wool, polypropylene, pile or neoprene socks.
• Never take your boat over a low-head dam.
• Portage (carry) your boat around any section of water about which you feel uncertain.
• Never boat alone. Boating safety increases with numbers.
• Keep painter lines (ropes tied to the bow) and any other ropes coiled and secured.
• Never tie a rope to yourself or to another paddler, especially a child.
• Kneel to increase your stability before entering rougher water, like a rapid.
• If you collide with an obstruction, lean toward it.
File a float plan with a reliable person, indicating where you are going and when you will return. Remember to contact the person when you have returned safely.

Rich Schwartzman has been reporting on events in the greater Chadds Ford area since September 2001 when he became the founding editor of The Chadds Ford Post. In April 2009 he became managing editor of ChaddsFordLive. He is also an award-winning photographer.
Comments
comments