Concord Township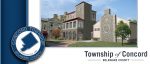 The Board of Supervisors monthly public meetings are held the first Tuesday of each month, except January when it is the first Monday, first Wednesday if said Tuesday is a legal holiday, or first Thursday if said Tuesday is the general or primary election day.
A mid-month meeting held the second Tuesday. When a month has five Tuesdays, a second month meeting is held the third Tuesday. Agenda meetings are held the last Tuesday of each month.
Dominic A. Pileggi, Chairman
Board member since April, 1999
Areas of Responsibility:
Codes|Solicitor|All Committees
Township Service:
Planning Commission, October, 1994 to April, 1999
Land Planning May, 1995 to present
Sewer Authority October, 2005 to September, 2009
Send Message to listing owner
Please
log in
to be able to send messages to the listing owner.