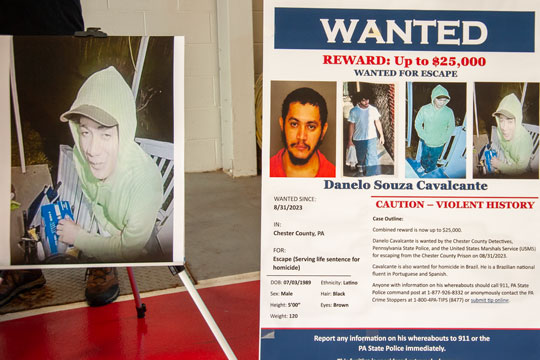 Escaped prisoner Danelo Cavalcante has been considered dangerous before, now he's "armed and dangerous," according to Pennsylvania State Police Lt. Col. George Bivens.
Bivens confirmed during a 9:30 a.m. press conference Tuesday that Cavalcante stole a rifle from a garage in South Coventry Township, but the homeowner was present, drew a pistol, and fired at Cavalcante. There is no indication that Cavalcante was wounded.
According to the scenario Bivens presented during the press conference, a woman motorist saw a shirtless man crouching along Fairview Road in S. Coventry Township at about 8 p.m. Police were notified, and footprints were found matching Cavalcante's prison shoes, which were found a short time later. Somewhere along the line, he was able to steal a pair of boots.
At about 10 p.m., Cavalcante entered the garage. Bivens said Cavalcante was likely looking for a place to hide and did not notice the property owner. He did see the rifle, a .22 caliber with ammunition and a scope, and grabbed them. The property owner pulled a pistol and fired at Cavalcante who managed to flee.
Bivens, the deputy commissioner of operations who is heading up the search, further said that at least 500 law enforcement personnel are involved in tracking down Cavalcante and that they are "planning for a long operation."
He also said he's been in touch with Gov. Josh Shapiro's office and that the governor has offered as much help as needed.
"We continue to push methodically," Bivens said, "and we will catch him."
Last night's incident led Owen J. Roberts School District to cancel classes today. And Bivens, as he has said from the beginning, reminds people to be vigilant, to secure their homes, sheds, garages, outbuildings, and vehicles. Lock the doors and keep the keys. Do not leave keys in any vehicle.
Cavalcante was able to flee the Longwood Gardens area Saturday night after slipping through the perimeter and stealing a truck from a nearby dairy farm. That truck was unlocked and had the keys inside.
Not only does Bivens characterize Cavalcante as armed and dangerous, but he also acknowledges that he is opportunistic.
When asked if he thought Cavalcante was still trying to head south, Bivens said, "I think he's just trying to survive and avoid being captured right now."
Danelo Cavalcante was convicted of the 2021 murder of his girlfriend who said she was going to tell police about a 2017 murder he committed in Brazil. He stabbed her 38 times.
He escaped from Chester County Prison in Pocopson Township on Aug. 31, a week after being sentenced to life in prison for the 2021 killing.
There is a $25,000 reward being offered for information leading to the capture of Cavalcante. The tip line is 717-562-2987, and people can also call 911 to report a sighting.

Rich Schwartzman has been reporting on events in the greater Chadds Ford area since September 2001 when he became the founding editor of The Chadds Ford Post. In April 2009 he became managing editor of ChaddsFordLive. He is also an award-winning photographer.
Comments
comments