Pennsylvania State Police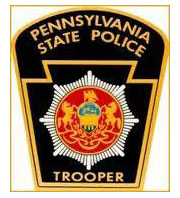 • State police made three arrests during a Sobriety Checkpoint in Chadds Ford during the overnight hours of Nov. 27-28. Police said Juan Farrell-Malinconico, 18, of Media, was arrested for DUI, Jyairre Chapman, 18, of Bear, Del. was arrested for drug possession, and Richardson Obiero Asabe, 51, of Upper Darby, was arrested for DUI.
• Police said they arrested a 42-year-old Glen Mills man on retail theft charges following an incident at Target in Concord Township on Oct.8. A report said the unidentified man stole a $600 Polaroid camera and $93 worth of Polaroid film.
• Someone stole more than $85 worth of cigarettes from the Wawa on Naamans Creek Road in Concord Township on Nov. 11. Police said the unidentified suspect walked behind the counter and stole six cartons of Newport Shorts.
• A 27-year-old woman from Aston was the victim of a pair of pickpockets, a police report said. According to the report, the unknown suspects pickpocketed the victim's purse at Wegmans while she was looking away.
• Police are investigating two cases of thefts from vehicles in Concord Township on Nov. 20. In one case, the victim lost $20 taken from her unlocked vehicle.  In the second case, a 51-year-old woman from Elkton left her car unlocked, and someone stole more than $700 worth of property, including a $300 backpack, a $150 laptop charger, and a $150 textbook.
• Police are also investigating multiple thefts from cars on Nov. 22. The unknown suspects stole a $600 cell phone from one of the vehicles. The incident happened on Shavertown Road in Concord Township.
• Police from the Avondale barracks arrested two people, a 20-year-old man from Ridley Park and an 18-year-old woman from Philadelphia, on drug possession charges in Kennett Township on Nov. 27. The arrests followed a traffic stop for an expired inspection.
• Ulta Beauty in East Marlborough Township was ripped off to the tune of more than $500 worth of salon products on Oct. 22. Police said four women entered the shop, gathered products, and left without paying. Troop J is investigating.
• State police said they arrested a 46-year-old Wilmington man on retail theft charges. A report said the suspect, not named in the report, stole $95 worth of merchandise from the East Marlborough Township Walmart on Nov. 10. Troopers caught the suspect as he was fleeing. They also determined he was under the influence of a controlled substance.
• Police are investigating a jewelry theft on Route 1 in Pennsbury Township. The incident happened on Oct. 30. The unknown suspect broke the locks off two display cases and then stole multiple pieces of jewelry items and a purse. The estimated value of products solen is $4,540. In a similar case on the same date, someone broke into a glass display case and stole $3,000 worth of rings an hour earlier, at 3:30 p.m.

See Contributors Page https://chaddsfordlive.com/writers/
Comments
comments