• State police said one person was injured in a two-vehicle accident in Pennsbury Township on Oct. 17. According to the report, William A. Cook, 71, of Pocopson, was driving south on Lenape Road at 7:27 p.m. when he failed to yield while making a left turn onto the Sunoco parking lot. A northbound vehicle struck Cook's. The other driver, Kevin E. Abernathy, 22, of Avondale, was transported to Paoli Hospital; Cook was cited for the improper left turn, police said.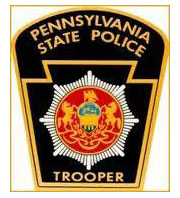 • Police said Teresa Ann Machamer, 64, was accused of striking a man n the face and side during a verbal argument in Pennsbury Township on Nov. 5.
• Someone removed the front passenger door handle of a car and put it on the vehicle's hood, state police report. The incident took place sometime between 3:30 and 6 p.m. on Nov. 1 in the 700 block of Unionville Road in East Marlborough Township.
• Police said someone cut the combination lock on a garage door and then stole two items that were on the garage floor. The incident happened during the overnight hours of Oct. 19 and 20 on W. Street Road in East Marlborough Township.
• A 55-year-old woman from Oxford was cited for speeding following an accident on Route 1 in New Garden Township on Nov. 1. State police identified the driver as Kathy S. Roten. According to the report, Roten rear-ended a car that was stopped after being involved in an accident with a deer. That second vehicle's taillights were inoperative because of the previous accident.
See Contributors Page http://chaddsfordlive.com/writers/
Comments
comments