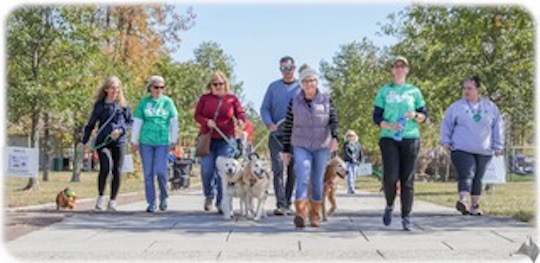 PAWS for People, the Newark-based pet therapy organization, will host its annual month-long, cumulative Wag & Walkathon, Sept. 16 – Oct. 16. This year's event will include a Facebook Live Step Off event, a month of mile-tracking & fun challenges, and conclude with an optional in-person Cross the Finish Line Celebration at Glasgow Park in Newark.
For those who have always wanted to run a marathon but cannot complete 26.2 miles all at one time, the cumulative marathon concept lets them log in their 26.2 miles anytime, at their own pace, throughout the month. Participants can run/walk on their own, with a pet, or with friends. The in-person Cross the Finish Line event will feature doggie games & contests, vendors and awards for mileage tracking, fundraising, and team building.
A highlight of this year's event is PAWS' new partnership with The National Dog Show and its host, The Kennel Club of Philadelphia.   According to David Frei, an analyst for The National Dog Show on NBC and a member of The Kennel Club of Philadelphia. "This partnership will elevate all parties and the great work they do in the pet therapy realm."
"Last year's All -Virtual Wag & Walkathon was extremely successful, and we are so grateful for the support that the community has shown," said Lynne Robinson, executive director, PAWS for People. "Our theme for this year's event is Fairy Tails: Living Happily Ever After COVID which expresses our hope for the future as we return to in-person, life-changing pet therapy programs in a world where the need is greater than ever before. In addition, we are thrilled to partner with The National Dog Show this year." Our association with this nationally recognized and respected organization will help extend our reach into areas that may not know us.  It's a win-win situation for us both."
The registration fee for the Wag & Walkathon is $20 for adults (13 and over) and $10 for children (12 and under). To register or for details, please call (302) 351-5622 or visit www.PAWSforPeople.org/walkathon.
PAWS for People is a nonprofit organization committed to providing hope, encouragement, and comfort to people in need through interaction with a gentle, affectionate pet. PAWS trains and certifies caring people and their well-trained pets to interact with community members of all ages throughout Delaware and the surrounding counties in Pennsylvania, New Jersey, and Maryland.  PAWS offers programs that address a range of physical, emotional, and mental needs in a wide variety of sites including hospitals, eldercare facilities, courthouses, rehabilitation centers, colleges, schools, libraries, corporate offices, and more. In addition, PAWS for Reading and PreK PAWS teams provide sessions to help children enjoy reading while improving their literacy skills with the encouragement and comfort of a non-judgmental therapy pet.

Comments
comments