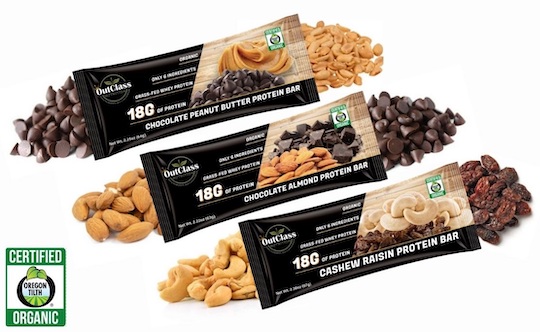 When Brent Schweitzer lived with his parents on Joshua Way in Pennsbury Township, he took pride in the elaborate Christmas displays he created. Now his creative energies have moved into a more entrepreneurial direction. He is now making protein bars.
Schweitzer, now 32 and a mechanical engineer, calls his product Outclass Nutrition Protein Bars. The bars are organic certified and non-GMO, with 18 grams of grass-fed whey protein, he said.
They come in three flavors — chocolate peanut butter, cashew raisin, and chocolate almond, and only have six ingredients: whey, cacao, coconut oil, tapioca fiber, and clover honey. The flavor determines the sixth ingredient. The only ingredient that can't be classified as organic, he said, is the whey.
Schweitzer said the bars are gluten-free and low sodium.
But how did a 32-year-old mechanical engineer who likes Christmas lights get involved in creating protein bars?
"I was an overweight kid. I lost some weight but thought there had to be a way to keep the weight off. I later started lifting weights and eating protein bars, but they made me sick," he said. "I came to the conclusion that most of them were junk."
So, Schweitzer decided to do something about that. He was still living with his parents at the time and went to work in his mom's kitchen, tinkering with ingredients, looking into those that were organic. And after trying this and that, he came up with something he thought other people might like.
He eventually found a manufacturer in California that would make the bars based on his recipe. Then came packaging and design. What's left now is to get the project off the ground. That's where the project stands now, and this phase starts with Kickstarter.
The goal is to raise $7,000 in 30 days beginning Tuesday, Feb. 23, when the Kickstarter campaign launches. People can go to the site to order the bars. It would cost $7 for three bars. If the goal isn't reached in those 30 days, people who ordered would not have their credit cards charged, he said.
If he makes the $7,000 goal, the product will ship in seven to 10 weeks. Once the product catches on, Schweitzer said bars would eventually ship in about a week. Also, Kickstarter would move the product to a higher level of visibility and, Schweitzer hopes, that would translate into more sales. In time, he would like to see Outclass Nutrition Protein Bars on store shelves.
"It took me four years to get the bars where I want them to be…Now, it's all or nothing. If I don't make the goal, it's back to the drawing board," he said.
To see what he does with Christmas lights, see the 2013 story.

Rich Schwartzman has been reporting on events in the greater Chadds Ford area since September 2001 when he became the founding editor of The Chadds Ford Post. In April 2009 he became managing editor of ChaddsFordLive. He is also an award-winning photographer.
Comments
comments