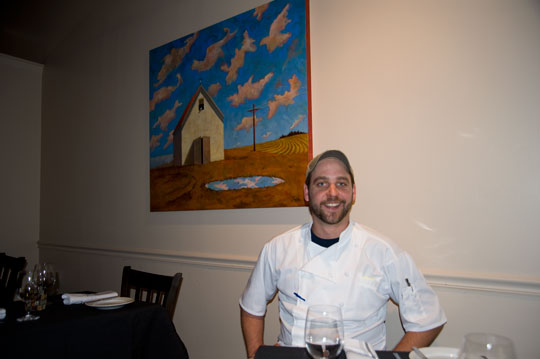 Chadds Ford is well known for its history. There's art history and there's American history. How about some food history?
That's part of the goal of MacGregor Mann, owner of Junto, a recently opened restaurant in the Shoppes at Olde Ridge Village.
The word "junto" refers to a group of persons joined for a common purpose. Mann took the name from a club founded by Benjamin Franklin in 1727 for mutual benefit. The Leather Apron Club, as it was later to be called, was an early networking group of thinkers and business people who wanted to discuss morals, politics and natural philosophy.
For Mann, the idea is to focus on local food history and bring back some of the cuisine and culinary practices of Pennsylvania's food heritage. He likes his ingredients fresh and his procedures as traditional as can be. On the day of the interview he had just begun preparation of homemade fermented sauerkraut. None of that boiled in vinegar stuff for him.
"Sometimes how they did things hundreds of years ago might be better than the way we've done it for the last 30 years," he said.
All of the produce is as locally sourced as possible, using the produce auction in Oxford and getting some other items from a source in Gap.
He also wants his proteins to be local, but there's a bit of stretch with some of it. Some of the seafood, such as sturgeon and pike, are coming in from Idaho and Erie. With rare exception the local range for seafood runs from the Hudson Bay to the Chesapeake.
"We're trying to limit the miles to plate as much as possible," he said. "It's all stuff that should be native around here to showcase what they are, and were 150 years ago, but the sturgeon was a huge part of the economy around here, but unfortunately we over-harvested from the Delaware River."
At Junto, they smoke the fish in their grill in the back and then cook to temperature.
Part of what's going on is a history lesson for Mann and his staff.
"We've researched anybody who's lived off this land, off the fruits of this region as far back as I can find stuff," he said.
He's been reading up on the native population and the European settlers of the Delaware and Susquehanna regions, learning what they used to grow and produce.
"I learned that the tomale was a technique that must have been shared between the natives in Mexico and the native people around here because I found a version of a tomale that was made in Pennsylvania several hundred years ago before colonization," he said.
He added that while some of the presentation is modern, that doesn't mean it's not based on tradition. He said he's trying to show the evolution of food preparation and presentation.
"People ask 'What is Pennsylvania cuisine?' We're getting started on creating that definition," he said.
He's not trying to reinvent the wheel, but bring it back like when it was made by hand and lasted longer.
Right now, Junto is open for dinner Tuesday through Saturday, and for brunch Saturdays and Sundays. Reservations are recommended. While they don't serve lunch, Mann said he's open to hosting lunch meetings if they are set up in advance.
Mann said the average dinner tab is $40-$50 per person for dinner and $15-$18 per person for brunch.
But he will also be opening another room, called the Session Room were prices are expected to be $15 to $20 per person for sandwiches and sides. He is also planning some weekday specials.
Junto is in the same location as the former Brass Ladle. For reservations, call 484-574-8041.
(Photo: MacGregor Mann, owner of Junto in Olde Ridge Village says he wants to focus on fresh food and reduce the number of miles food has to travel from farm to plate.)

Rich Schwartzman has been reporting on events in the greater Chadds Ford area since September 2001 when he became the founding editor of The Chadds Ford Post. In April 2009 he became managing editor of ChaddsFordLive. He is also an award-winning photographer.
Comments
comments