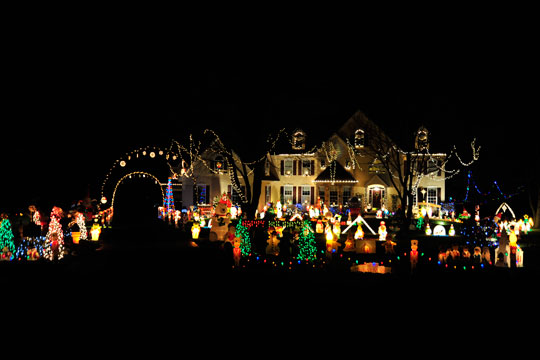 Christmas comes early for Brent Schwietzer. The day itself still arrives on Dec. 25, but planning for Christmas begins in August.
Schwietzer loves Christmas lights displays and it's been that way since he was 10 years old when his parents took him out to see the holiday displays. He was so captivated that he started designing light displays at that young an age when the family was still living in Delaware.
That was 15 years ago. For the past 10 years, the Schwietzers have been living on Joshua Way in Pennsbury Township. And the displays continue. And they grow.
Schwietzer said he started out having a display with about 1,000 lights. This year's display is a lot larger, about 7,500 lights along with 165 blow mold figures, 25 inflatable characters, several speakers with music and, new for this year, a 12 foot tree built with color LEDs.
This year's display is about three times larger than last year's and he wants to get the display up to 10,0000 lights within the next few years.
He admits he might be in a little bit of competition with himself, but he simply enjoys the project.
"I keep buying stuff and it gets bigger. For some reason I want to be one of those people with a lot of stuff in the yard," he said.
Schwietzer, a mechanical engineer, starts designing the display in August, shopping for new items on and off line and, he said, family members also chip in with figures and other needed items the find at auctions and yard sales. That takes a few months, he said. Then the physical work of putting it all together begins in early November. That takes about three weeks.
The display remains up until the second week in January. Dismantling the display takes two days.
"It's a lot easier to take it down, " he said.
Schwietzer said seeing the displays as a kid brought him joy and he wants to share that joy with others during the holiday season.
The display is lit from about 6:30 to 8:30 p.m. at 4 Joshua Way, weather permitting. Don't worry about looking for the house number, though. When the display is lit, you can't miss it.
Photo: The Christmas light display at 4 Joshua Way has 7,500 lights. Brent Schwietzer wants to get that up to 10,000 lights within the next few years.

Rich Schwartzman has been reporting on events in the greater Chadds Ford area since September 2001 when he became the founding editor of The Chadds Ford Post. In April 2009 he became managing editor of ChaddsFordLive. He is also an award-winning photographer.
Comments
comments