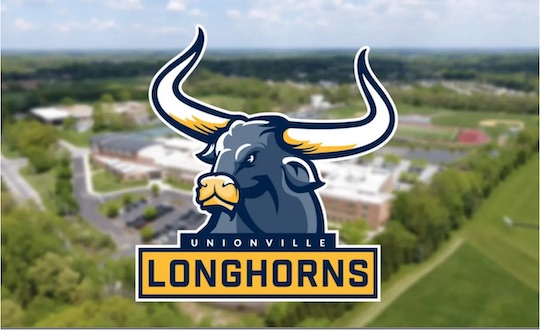 The mascot for Unionville High School is now the Longhorn steer. Students in grades 8-12 voted for the Longhorn over the Stampede —represented by a horse — by more than 69 percent. School board directors voted to approve the Longhorn by a 9-0 vote during their Jan. 25 meeting.
Prior to the reveal, Director Tom Day thanked the Mascot Selection Committee, comprising students, faculty, and members of the community, for their efforts in creating a new mascot that "embraces and celebrates the wonderful diversity and uniqueness of our community."
Two student representatives presented the reveal to the board. There was a follow-up to the actual presentation by students Jenna Ahart and Olivia Kenyon, who were members of the committee.
Reading from their report, Kenyon said the choice is in honor of the King Ranch of Texas that bought the East Marlborough property — the Buck and Doe Run Valley Farms between Unionville and Coatesville — in the 1940s. But they added that it was about more than that history, Olivia Kenton said.
"…the Longhorn still strongly portrays the values of the community through its characteristics as a species. Because each Longhorn differs greatly in its size, color, horn length, and personality, the Longhorn embodies the community's diversity. This innate versatility coupled with the Longhorn's gender-neutral nature serves to create a universal mascot each and every community member can embrace and endorse," Ahart said.
Their report continued: "The mascot was finally chosen because it is unique to those of surrounding schools in Southeastern Pennsylvania and aligns with an identifiable brand. With a distinct, recognizable logo of concrete imagery, the Longhorn establishes a solidified brand for the school and district… May the Longhorn embody the community's honorable history and the student body's diversity, leadership, and perseverance for years to come."
The former mascot, the Indian, was officially retired in August. The high school will hold a clothing drive in the spring and are asking people who have any old UHS apparel with the former mascot to turn them back into the school.
The new Longhorn Store is open and selling apparel with the new logo, the students announced. The blue and yellow of the school's color scheme will remain.

Rich Schwartzman has been reporting on events in the greater Chadds Ford area since September 2001 when he became the founding editor of The Chadds Ford Post. In April 2009 he became managing editor of ChaddsFordLive. He is also an award-winning photographer.
Comments
comments