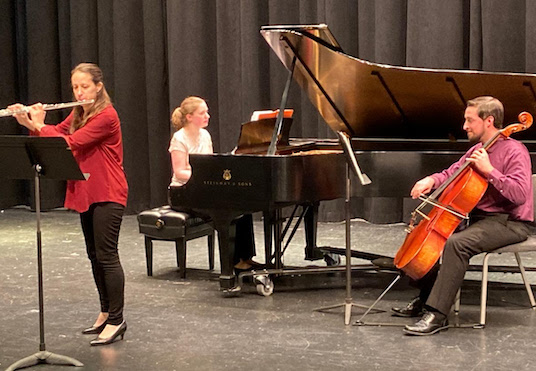 As with so many other events, the Delaware County Symphony is still not having any live, in-person concerts. But the show still goes on.
The symphony announced, through its Music Director Jennifer Nicole Campbell, that the symphony will be having virtual concerts. European Flavors is the first of six in that series and is already posted on YouTube and the symphony's Facebook page.
Among the first concert's works are compositions by Handel, Granados, Bach, Brahms, Schubert, and Fauré. It's in association with Neumann University and under Campbell's direction. DCS recorded European Flavors at Neumann's Meagher Theater on Sept. 21. This is also the first collaboration between the university and the symphony to provide what they're calling "Concerts on Demand." There is no set schedule for the other concerts, but they will be announced about a week before the live stream, according to Merri Lee Newby, symphony president.

DCS will also be taking part in DELCO Arts Week 2020 with a special program on Sunday, Oct. 4, at 3 p.m. The presentation, Gershwin's Rhapsody in Blue: An American Icon is billed as a "musical walk-through" of the famous piece and how it "captures the essence of the American spirit." It too will be available on YouTube here.

On Oct. 10, the symphony will have a "virtual instrument Petting Zoo" to teach children about various instruments and how their sounds work together. That will be at 2 p.m.

Rich Schwartzman has been reporting on events in the greater Chadds Ford area since September 2001 when he became the founding editor of The Chadds Ford Post. In April 2009 he became managing editor of ChaddsFordLive. He is also an award-winning photographer.
Comments
comments