We typically celebrate women's achievements in March, during Women's History Month but Gallery222 owner Andrea Strang is getting the party started earlier this year. An all women show is opening at Gallery222 in Malvern this Wednesday, February 19th. "The Maine Event" features plein air works by seven award winning artists who are highlighting the beauty of Maine.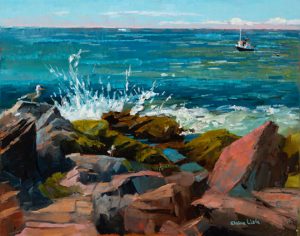 Strang said, "As a female gallery owner, I don't think I can be prouder than to have these seven talented ladies showing with us and with such an amazing and beautiful theme. We just can't wait." The artists being featured are Jacalyn Beam, Elise Phillips, Valerie Craig, Nancy Bea Miller, Eliza Auth, and Alexandra Tyng and Elaine Lisle. All of these women are highly accomplished painters and many of them teach in art centers in and around the Philadelphia area. This is sure to be a beautiful show. Join the artists at a reception on Thursday, February 20 from 5:30 p.m. to 8:00 p.m. "The Maine Event" runs through March 14th. For more information, visit www.gallery222malvern.com.
In Kennett Square, Square Pear Gallery owner Corien Siepelinga has put together a vibrant group of artists for "Food, Wine and Good Times." The show opens on Thursday, Feb. 20th. The Al Moretti Trio will be performing in the gallery during the reception. Between the live music and the subject matter on display, this will definitely be a good time. The show features Al Moretti's artworks along with Alice Dustin, Merrill Weber, Jeff Schaller, Dane Tilghman and Kyle Whary. Many are familiar with these artists; they have been exhibiting their work around the Delaware Valley for some time.
Tilghman has been painting for 36 years and his work is always in demand. He may tone the color palette down for his portrayals of timeworn people but for his paintings depicting music scenes, he really amps up the volume in his colors. Whary's wine and spirits paintings exude fun in a more stylistic way. His focus is on bringing to life the play of light and reflection seen through the liquid, bottles and glasses.  Viewing them, it is hard to believe that he paints mostly with his fingers and only uses a brush for the fine details.
St. Francis in the Fields Episcopal Church is holding its 2020 Art and Music Festival this weekend in Malvern from Friday, February 21st to Sunday, February 23rd. Meet the artists and enjoy wine and catered small plates at the art preview reception on Friday from 6:00 p.m. to 9:00 p.m. Art by local high school students and the youth of Darlington Arts Center will also be on display. Join Randall Graham, juror for the art show, on Saturday when he will be conducting an oil painting demonstration beginning at 10:00 a.m. The gallery will be open from 10:00 a.m. to 3:00 p.m. Other events include a musical review and reception beginning at 5:00 p.m. Saturday night and the final exhibition and sale of art on Sunday from 11:00 a.m. to 2:00 p.m. Tickets can be purchased at the door. Visit https://stfrancisfields.com/2019/11/art-and-music-festival-2020/  for all the details.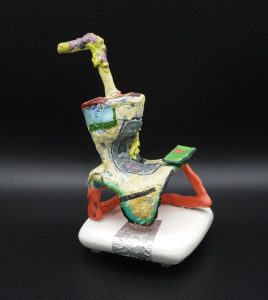 Other events worth checking out this week: In Rosemont, see "Nature/Nurture", a four person show featuring Rosalind Bloom, Sarah Bloom, Eleanor Schimmel and Daniel Schimmel at the Patricia M. Nugent Gallery on the campus of Rosemont College.
Rosalind Bloom shared this about the show, "Art sometimes runs in families. Is it nature or nurture? A bit of both? We bring two such families together for this exhibition. Sarah Bloom is primarily a photographer but also works in transfer print mixed media like her mother. Both mother and daughter make work that is either overtly or subtly political. Found and repurposed materials are also a source of meaning and inspiration for Dan Schimmel, while mother Eleanor is devoted to working in encaustic. Both reflect a concern for the environment and the viability of life on this planet". The show runs February 20th to March 19th. An opening reception is being held on Thursday, February 20th from 4:00 p.m. to 7:00 p.m.
In Philadelphia, see the group show "Subversion", an exhibition presented by Philadelphia Sculptors (PS) and Da Vinci Art Alliance (DVAA), being held at DVAA in Bella Vista. This is the second collaborative exhibition between PS and DVAA. "Subversion" provokes and questions everything from the art world, imperialism, gender norms, social interactions, and formal expectations. A reception is scheduled for February 26th, from 6:00 p.m. to 8:00 p.m. For details visit https://philasculptors.org/upcoming-exhibitions
 Whatever you do this week, support the arts!!

A native of Philadelphia, Constance McBride lived in Arizona for 16 years, where desert observations made a transformative impact on her work as a research based visual artist. Passionate about contemporary art, she was actively engaged in the local arts community. She served as a board member for several art organizations, managed an artist collective/gallery space, curated and juried several exhibitions and wrote for two arts publications in Phoenix. She taught ceramics at Shemer Art Center and Museum and exhibited her work both locally and nationally. McBride returned to Pennsylvania in 2018 and resides in Chester Springs with her husband and two dogs. In West Chester, she serves as a board member at The Art Trust Gallery at Meridian Bank and teaches ceramics at Chester County Art Association. She also teaches at Clay on Main in Oley, PA. She is a member of American Craft Council, Philadelphia Sculptors, and Women's Caucus for Art, Philadelphia Chapter.
Comments
comments