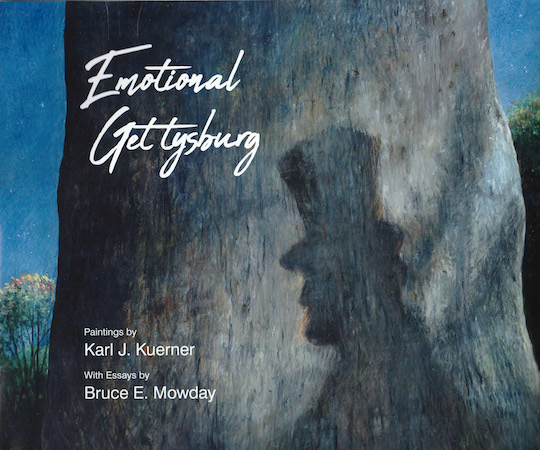 Devil's Den, Little Round Top, Picket's Charge are familiar words to anyone who knows even a smattering of American Civil War history. Those are the names of places associated with the July 1863 Battle of Gettysburg. But for two local artists, one a painter and the other a writer, Gettysburg is more than just a bunch of names.
Historian and author Bruce Mowday wrote the essays for the book "Emotional Gettysburg," and Chadds Ford artist Karl Kuerner did the paintings.
"It was such a lonely place to die," said Mowday referring to Culp's Hill, another area of the three-day battle.
Culp's Hill was part of the Union's defensive line during the battle. It's a heavily wooded area with brush and crevices. Kuerner agrees with Mowday regarding that loneliness.
"There's a little ravine," Kuerner said. "You go down the path, and there are these crevices and huge rocks. We didn't go 25 yards, and I couldn't see anybody [in our group]. You could just dig in and hide. And if you were hit and crawled into one of those crevices, they'd never find you…It was nasty, but yet, it was beautiful in its own way. And you can just feel the energy."
PCN, the Pennsylvania Cable Network, aired an interview with Mowday and Kuerner, conducted via Zoom, about the book on Sunday, May 17, and the two went further during telephone interviews with Chadds Ford Live the following day.
"Emotional Gettysburg" is a series of 20 paintings and essays reflecting each man's emotional reactions to the battle.
"There are so many emotions, you could pick out a million places to paint," Kuerner said, but he wanted to show the area as it would have been before the battle, as those who would fight saw it before the fighting started.
"I told Bruce I wanted to do this as if it were in peace, no statues, no cannons. To show it without the violence," he said.
Showing an area of calm that would turn into a place of violence, was a way to bring home the juxtaposition of war and peace. He said there was one of his images shows that; it's a piece he titled "Heaven or Hell."
Kuerner said it shows a staircase at Little Round Top, a monument where visitors can go up a tower to view the field of battle. "You have this staircase going up to the light, and, at the entrance, you can see Devil's Den. You only have two places to go," he said.
Kuerner added that he wanted to impart a sense of history to people who might not fully grasp the significance of the place because, for him, at least, history had become more important to him as an adult than it ever did when he was younger. And some younger people still don't get it.
He said he spoke to some younger people who work in Gettysburg, some even for the park service, and asked them what they feel about the place. Most have no feeling at all because they grew up there.
"I spoke to a couple of girls who said, 'Culp's Hill? We would go there to make out.'"
Kuerner hopes the readers of the book will come away with a sense of emotion "that will draw them to realize that history is so much more than something you read in a book."
Mowday had already written two books on Gettysburg, one being "Picket's Charge." It was Kuerner's idea for them to collaborate and it began with the artist asking the writer to show him places that Mowday found significant. The battle itself has significance for the Mowday family. He said he had a great-great-great-uncle who wounded at Gettysburg.
The essays, Mowday said, tie together the emotional reactions they each have. And it was the location of Picket's Charge that had the most impact for both of them. And part of that is a lack of understanding of the significance to which Kuerner alluded.
"I think there are so many lessons that aren't being learned. You have this great history lesson. This is the town that really hosted the pivotal battle of the whole Civil War. If the Union had lost, we might have been two countries after that. There's such historical importance," Mowday said.
"If you go up there and know what was at stake for the country, people losing their lives, family members dying. It's just as emotional today as it was back then."
He said the project reinforced the horrors of the battle that he has read and written about, understanding the desolation of locations such as Culp's Hill. Still, it also added another dimension, the effect the battle had on the townspeople.
"The experience brought back the realities, what happened to the individuals, whether soldiers or civilians," he said. "Sometimes I think we lose sight of that."
"Emotional Gettysburg," published by Regent Press, was released in January but, because of the COVID-19 pandemic and shutdown, all personal appearances, book signings, and talks have been postponed until further notice. A book signing for Kuerner's "Beyond the Art Spirit," scheduled for the Brandywine River Museum of Art in March, was also postponed indefinitely.
The book is available from Amazon, Barnes & Noble, and from Regent Press, Mowday said, adding it sells for $34.99.

Rich Schwartzman has been reporting on events in the greater Chadds Ford area since September 2001 when he became the founding editor of The Chadds Ford Post. In April 2009 he became managing editor of ChaddsFordLive. He is also an award-winning photographer.
Comments
comments