Troop K Media Barracks
• Ashley N. Waltz, 31, of Wilmington, was cited for following too closely after an accident on Route 202 in Concord Township on Jan. 27, police said. According to the report, Waltz rear-ended another vehicle near Hillman Drive but tried to flee. An uninvolved motorist witnessed Waltz driving erratically and was able to get the license number, police said. Criminal charges are pending.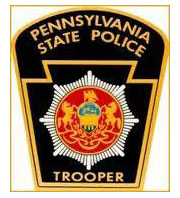 • Police are investigating the report of an attempted break-in at an apartment unit on Dougherty Boulevard in Concord Township on Jan. 25. No other details were released.
Troop J Avondale Barracks
• State police are investigating an attempted strangulation in Pocopson Township on Jan. 28. According to the police, troopers responded to a domestic-related assault on Washington Lane at 5:30 p.m. A 42-year-old man was arrested. His identity was not released.
• Police are looking for an unidentified man who allegedly stole $498 worth of merchandise from the Walmart in East Marlborough Township on Dec. 22. There was no description of the suspect, but the report said he fled in a white Chevrolet Suburban bearing a temporary Delaware registration.
• Police said Stacey Kennedy, 52, of New Castle, Del., was arrested without incident on drug possession charges in West Marlborough Township. A report said police stopped Kennedy at Doe Run and Apple Grove roads on Feb. 1 at 12:40  a.m. A search of the 2002 Subaru Outback "yielded positive results," the report said. No other details of the incident were available.
• A 20-year-old man from Kennett Square was arrested on drug charges at Starr and Newark roads in New Garden Township on Jan. 25. Police said they conducted a traffic stop at 2:25 a.m. and found five vape pen cartridges believed to contain liquid THC. The suspect's name was not released.
See Contributors Page http://chaddsfordlive.com/writers/
Comments
comments