Pennsylvania State Police
Media Barracks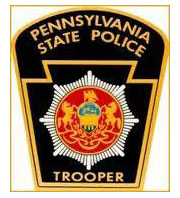 • State police are looking for the driver who fled the scene of a one-vehicle accident at State Farm Drive and Route 202 on Nov. 30. Police said the driver was apparently making a right-hand turn from westbound State Farm Drive onto northbound 202 when the vehicle left the roadway, struck an electrical power box on the right side of the road, then struck the light pole before fleeing. The accident happened at approximately 7:47 a.m.
• Police are investigating the theft of a black utility trailer from a construction site on Ridge Road in Chadds Ford Township. The theft happened sometime between 5:20 p.m. on Nov. 20 and 8 a.m. on Nov. 23.
• A 29-year-old man from Darby was arrested in Concord Township on weapons charges and for attempting to steal a motor vehicle. Police made the arrest on Nov. 21. The suspect was not named in the report.
• State police are investigating a case of criminal mischief in Concord Township. Someone smashed the rear window of a vehicle parked at the Best Western motel sometime during the overnight hours of Nov. 28-29.

See Contributors Page https://chaddsfordlive.com/writers/
Comments
comments