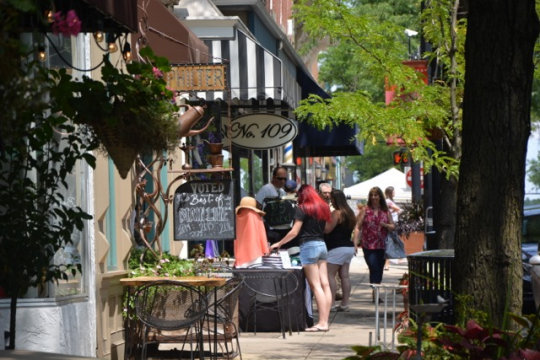 The sidewalk sale is a great American summer tradition. At the annual sidewalk sale on July 12th and 13th, Kennett Square shops are celebrating our nation's independence as well as their own independence as locally owned small businesses. These "independents" will offer some of the best sales of the season on accessories, apparel, gifts, books, kids' toys and clothes, home décor, sustainable, ecofriendly, and fairly traded merchandise, and much more. Bargain hunters will be rewarded with unique and discounted finds—and they'll also discover that Kennett Square is the perfect day-trip or staycation destination.
"Our town-wide sidewalk sale is the place to find great deals on so many beautiful items," says Lisa Baldwin, owner of Chantilly Blue. Fabulous finds throughout town during the sidewalk sale will include super sale-priced tops, dresses, jackets, and, of course, denim, at Chantilly Blue, and Marché Lifestyle Boutique is celebrating Christmas in July. Trail Creek Outfitters is putting together a selection of "last call" items—all that's left of popular styles that won't be coming back in this year—for 25% off. All regularly priced merchandise at Green Eyed Lady, including Toms and Rainbow Sandals, will be 20% off during the sidewalk sale, and shoppers will find two racks of clothes for $25 or less as well. "The sidewalk sale is one of the biggest shopping days of the year in Kennett Square," says Colleen Cottrell, owner of Green Eyed Lady.
"The sidewalk sale is a win-win—an opportunity for shoppers to get great deals and to support small local businesses at the same time," says Lee Mikles, owner of Grain Craft Bar + Kitchen and co-chair of Historic Kennett Square's Marketing Committee. "We also want to encourage people to explore what makes Kennett Square such a great place to spend the day."
Downtown Kennett Square, with its diverse shops, coffee shops, and restaurants, offers something for everyone. Tired shoppers can rest and rejuvenate with hot or iced coffee or tea and fresh-baked treats at Philter, Mary Pat's Provisions, or Talula's, and relax over lunch or dinner at one of the town's many restaurants. From fine dining to family-friendly meals, al fresco or rooftop, Asian, Italian, Mexican, or Mediterranean, Kennett Square's eateries cater to every palate. Nomadic Pies and Kennett Square's newest restaurant, Café de Thai, offer quick and delicious take-out options for dinner as well. The town is also home to the Kennett Flash and a vibrant live music scene.
Kennett Square's newest neighborhoods are fun to explore, too. In Cannery Row, find Textile, a vintage and contemporary clothing boutique, along with Evergreen Café, Bakery & Juicery, featuring Colombian coffee and pastries. The Birch Street neighborhood features WorKS, with artisan, designer, handcrafted, vintage, and one-of-a-kind goods, as well as outdoor beer gardens at Braeloch Brewing and The Creamery.
Kennett Square's independent merchants welcome all independent-minded shoppers to shop small and support local. The sidewalk sale runs from 10 a.m. to 6 p.m. on July 12th and 13th.
For more information click here.

Comments
comments