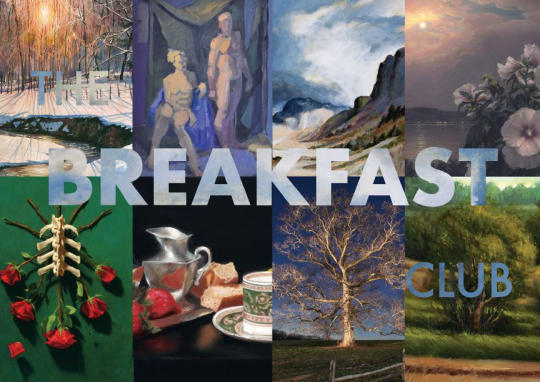 The surrealists of the 20th century gained a reputation for inventing quirky art games. Surrealism, as a genre, is an exercise in the absurd; turn everything on its head and laugh, or grimace at the futility of it all. It is from this dark sensibility that games such as Exquisite Corpse (nee "cadavre exquis") arrived. It's hard to escape even the most elementary art course without having participated in a game of Exquisite Corpse. The intention is to draw an image, fold the paper over, and then pass it along to the next contributor, who will add on to the composition without seeing the drawing to which they are adding. It's a collective effort that usually results in disjointed final product.
A game that I like to play, that has its roots in Exquisite Corpse, is the much more playfully named, "Doodle Monster." I introduced it to my students, when I used to teach. The premise of this game is to create one stroke, however geometric or swirly, and pass it to the next person who is tasked with transforming the stroke into a figurative image. Obviously a hit with children whose untethered imaginations yearn for any outlet  to express their energy, this game was equally as obviously terrifying for adults. Artists have used this ice breaker to bat away the lingering white canvas which is the most terrifying obstacle.
Ken Mabrey, who will be showing at Fit Fitness in Wilmington through Blue Streak Gallery, employs a similar energy in the creation of his paintings. In his artist statement with Philadelphia based Seraphin Gallery, he describes the process, "My work is conceived from an automatic painting method in which I mark the canvas, the page, or the litho-stone at random. These markings stimulate my imagination into visualizing abstractions of a locale or a figure. The process then becomes a problem-solving situation."
Mabrey's paintings play with the passage of time through visual repetition in a way that evokes artists of the Futurist movement. Duchamps' "Nude Descending a Staircase No. 2" comes to mind. His colorful palette and curved and vibrant figures add to the bacchanalia vibes in his paintings. Mabrey primarily exhibits in Wilmington and Philadelphia. He has exhibited at Borowsky Gallery, Fleisher Art Memorial, Delaware Art Museum, and Delaware Contemporary. Join Blue Streak Gallery for an Opening Reception for Ken Mabrey's Show, "Aloha Isabell! Oh Canada  Jitterbug  Ice and Other Dancers The Violin and Other Saws." Reception will be held at Fit Fitness on Friday, February 2nd from 5 to 7 p.m. The Show will continue until the end of March.  Fit Fitness is located at 62 Rockford Rd. in Wilmington.
Blue Streak Gallery will also be hosting an opening reception for their on site exhibition, "Breakfast Club" featuring artists Glenn Blue, Allen Gladwell Carter Sr, Neil Carter, Rob Evans, George Martz, Terrence Roberts, Gus Sermas and Shaun Stipick. This exhibition is the first group show of this informal association of Greater Brandywine Valley artists. Exhibition runs through February 28th.
While you're south of the PA border in Delaware, check out the Wine and Cheese Reception at Station Gallery in Greenville from 5 to 8 p.m. for their group show featuring artists Marlene Dubin, Elaine Lisle, and Mary Ann Weselyk. Until next week!

Caroline​ ​Roosevelt​ ​is​ ​a​ ​writer​ ​and​ ​artist​ ​based​ ​in​ ​Kennett​ ​Square,​ ​PA.​ ​She​ ​received​ ​her​ ​B.A.​ ​in Art​ ​History​ ​from​ ​Connecticut​ ​College​ ​and​ ​a​ ​Post​ ​Baccalaureate​ ​certificate​ ​from​ ​Pennsylvania Academy​ ​of​ ​Fine​ ​Arts.​ ​She​ ​has​ ​previously​ ​written​ ​art​ ​coverage​ ​in​ ​Seattle,​ ​WA​ ​and​ ​Philadelphia, PA.​ ​She​ ​currently​ ​co-hosts​ ​Art​ ​Watch​ ​radio​ ​on​ ​1520​ ​WCHE.
Comments
comments