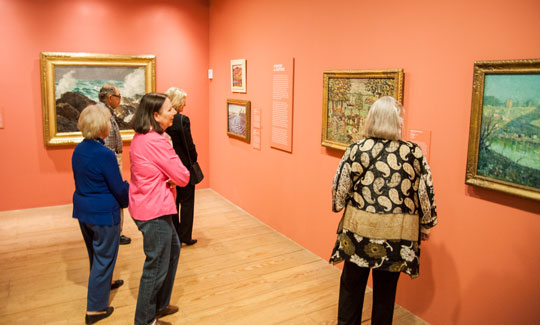 The new exhibit at the Brandywine River Museum of Art, "From Homer to Hopper: Experiment and Ingenuity in American Art," traces the development of modern art in America. But it also shows connections between artists and collections.
The collection in this exhibit brings in 54 pieces — by 44 different artists — from the Duncan Phillips Collection in Washington, DC, pieces that span 80 years, from 1870 to 1950. Artists represented include Georgia O'Keeffe, Horace Pippin, Thomas Eakins and, as the title of the exhibit implies, works by Winslow Homer and Edward Hopper.
Fittingly hung, Homer's "To the Rescue" and Hopper's "Sunday" face one another in a center row of the museum's third-floor gallery.
Exhibit curator Virginia O'Hara said the original title of the exhibit was "American Mosaic," but the museum changed the name to reflect the smaller size than the original Phillips exhibition. Phillips, an art collector and critic during the first half of the 20th century, is considered a major player in introducing Americans to modern art.
"He created the first museum dedicated to American modern art…and showing the relationships between artists, rather than trying to separate people by culture or periods," O'Hara said. "He wanted to see the connection between things."
There are nine sections within the exhibit: Realism and Romanticism, Impressionism, Forces in Nature, Nature and Abstraction, Modern Life, The City, Memory and Identity, Legacy of Cubism and Degrees of Abstraction. Along with the paintings representing those styles, each section has a separate text panel explaining the relevance of the style and the artists involved.
"From Homer to Hopper: Experiment and Ingenuity in American Art" runs through May 21.

Rich Schwartzman has been reporting on events in the greater Chadds Ford area since September 2001 when he became the founding editor of The Chadds Ford Post. In April 2009 he became managing editor of ChaddsFordLive. He is also an award-winning photographer.
Comments
comments