I held my column hostage this week while I waited to confirm some very exciting news! Pop Up Art KSQ  will be linking up with Delaware Art Museum and Chris White Gallery to present OFF SITE: A Pop Up Art KSQ Winter Exhibition. The timeline has been quite a whirlwind, with this opportunity opening up yesterday. Pop Up Art KSQ will be installing next week, and the reception will be hosted next Friday, February 1st from 5:30 to 9 p.m. This is their first trip away from their Kennett Square locale, and they will be showcasing returning artists as well as some new guests!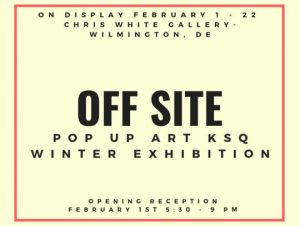 Lineup includes Aubrie Costello (silk graffiti artist), Lisa Marie Patzer (video artist), Frances Roosevelt (Painter- acrylic), Caitlin Kelley (painter - watercolor), Racer LeVan (painter - mixed media), TS Kist (painter - installation artist - mixed media), Caroline Roosevelt (Painter - acrylic), Geoffrey Dubinsky (sculptor, metalworker), Rebecca Brakeall (woodcut printmaker) and Cort Devereux, who creates loose close-up figure drawings and interiors with meandering yet decisive lines.
Side note: What do we call an artist who almost exclusively draws? Artists who draw are not referred to as draftsmen these days, and "drawer" is a thing you find in a commode. Illustration is a very niche genre of drawing, so, not necessarily an illustrator. Have we settled the back on forth for what we call people who exclusively draw? I would really like to know!
Anyway, the joyous scramble is on as Pop Up Art  KSQ toils away for the next week finishing work, accepting art, and curating the show. Stop by and check out their first Wilmington exhibition.
There's so much exciting energy in Wilmington coming up! One of my favorite artists and painter behind the eponymous art for Drake's album "Nothing Was The Same", Kadir Nelson, will be hosted by Wilmington Library on February 7th. Stop by  and meet the artist,  see several prints of his world renowned paintings, as well as partake in a free book giveaway and artist book signing from 10am - 11am and a wine and cheese reception and artist presentation from 6 - 8 p.m. Nelson's work will be on display at the Wilmington Library Commons through April 1st.
I first discovered Nelson's work with his striking New Yorker cover, "Savoring Summer" used for their September 10th style issue. The lush colors of the subjects' tan suit (with popped collar), the fixed gaze of the subject (a young, black man) and the young black woman in the background feel charged and determined.
If one was to overlay this with, say, Seurat's "A Sunday Afternoon on the Island of La Grande Jatte," there would be a standoff between this man and the lady with the parasol and bustle in Seurat's piece, and I love this juxtaposition and I have to wonder if there's any truth behind the theory of mine, that he created this piece as a pointed response to those little french garden paintings. There's an unmistakable homage to impressionist/post impressionist pastorals. I implore you to compare the two and get back to me, because I'm fixated on this now. And once you make that comparison, that lime popsicle, and the sole of the shoe in the viewers face, really feels like a mic drop (and i LOVE it). Anyway, I hope to meet the artist and learn more about his process and inspiration.
Tune in next Wednesday on Art Watch Radio 1520 WCHE from 1 - 1:30 p.m. when artist Rhoda Kahler interviews Malvern Retreat show coordinator and  Art Trust artists from "It Take Two" couples art show. This show features artist couples: Jeanne Petrosky & Dennis Guzenski, Mia Schaller & Jeff Schaller and Rhoda Kahler & Mike Kahler.
I love the idea of artists and their partners creating and showing together. Stop by for the reception at Art Trust Gallery in West Chester, PA on Friday February 1st from 5 to 8:30 p.m. and remember to join them for the artist talk on February 28th at 7 p.m. Until next time!

Caroline​ ​Roosevelt​ ​is​ ​a​ ​writer​ ​and​ ​artist​ ​based​ ​in​ ​Kennett​ ​Square,​ ​PA.​ ​She​ ​received​ ​her​ ​B.A.​ ​in Art​ ​History​ ​from​ ​Connecticut​ ​College​ ​and​ ​a​ ​Post​ ​Baccalaureate​ ​certificate​ ​from​ ​Pennsylvania Academy​ ​of​ ​Fine​ ​Arts.​ ​She​ ​has​ ​previously​ ​written​ ​art​ ​coverage​ ​in​ ​Seattle,​ ​WA​ ​and​ ​Philadelphia, PA.​ ​She​ ​currently​ ​co-hosts​ ​Art​ ​Watch​ ​radio​ ​on​ ​1520​ ​WCHE.
Comments
comments