Oxford Mainstreet Inc.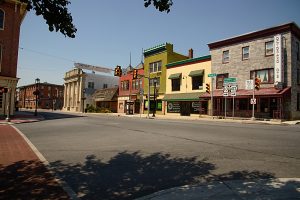 Discover our charm  Historic Downtown Oxford is the southern gateway to Chester County, Pennsylvania. Originally an intersection of trails, Oxford Borough was incorporated in 1833.  A quaint and diverse agricultural community with a unique blend of southeast Pennsylvania's past and future. Oxford is the hub in the wagon wheel that is Philadelphia, Baltimore, Lancaster, West Chester and Wilmington.  We have restaurants, boutique and consignment shops, a thriving arts community and events almost every week, all year long. Kick your shoes off and stay awhile.   Participate in your community  Oxford Pennsylvania is reminiscent of the tight-knit community you remember (or wish you remember) growing up.
We have many community events, monthly First Friday and 3rd on Third activities and even a little Village Market that operates May through October. Our charming Downtown merchants believe in Oxford and want to know your name. You will not find better customer service anywhere!
­­Accounting
Andrew Patroni Accountant
Charles Herbert, Public Accountant
Antiques & Thrift Shores
J & K Slightly Touched Furniture & Antiques
Neighborhood Thrift Store
Oxford Odds & Ends
Art Gallery & Classes
Oxford Art Alliance
Susan Melrath Fine Art Studio
Auto Services
NAPA Auto Parts
Banking, Finance & Investments
Coatesville Savings Bank
Edward Jones Investments
National Penn Bank
THG Financial Partners
WSFS Bank
Barber, Beauty Salons & Spas
Bilger Barbershop
Flip's Barbershop
Family Hair Salon
Make Time for Massage
Texture Salon & Spa
Business Support Services
Oxford Area Chamber of Commerce
Oxford Mainstreet Inc.
Child Care Services
Bright Beginnings                                         
Chiropractic Services
Douglas A. Fasick                         
Computer Services
digiTEK Computer Services                      
Counseling Services
Ce 'Ja Counseling & Consulting Service
Empowerment Resources Associates Inc.
Dry Cleaner & Tailor
Oxford Cleaners
Fire Protection
Holbrook Fire Protection
Government
Oxford Borough           (610) 932-2500
Grocery & Markets
El Nayarit #2                   
La Carreta Grocery Store
La Tienda Mexicana Grocery Store
Oxford Village Market
Wholly Grounds/Third Street Outlet          
 Housing
Oxford Hotel
Oxford Terrace              
Insurance Services/Title Services
Auto Tags Plus
Coe Insurance: Erie Insurance
Nationwide Insurance/ Garcia-Taylor Agency
The Surance Group
Legal Services
Eric S. Coates, Attorney at Law and Matthew J. Canan
Jacques H. Geisenberger, Jr. P.C.
James R. Clark & Associates
Kenneth Pyle, P.C.
Law Offices of McMichael, Heiney & Sebastian
Medical
Chester County Family Medicine & Geriatrics
Occupational Therapy and Holistic Services
Write-Well Handwriting Clinics
Optometrists
Oxford Family Eye care
Other
Custom Machine & Design
Government Specialists, Inc.
Howett's Screen Printing
Inspection Services Group
Outback Trading Company Executive Office
Restaurants, Breweries, & PUBS
Bog Turtle Brewery
Flickerwood Wine Cellars & Twisted Treats
Hong Kong Chinese Restaurant
La Sicilia
Octorara Hotel & Tavern
Pizza Hut
Sawmill Grill
Retail
Limelife Planners
MetroPCS
Millstone Jewelers
Outback Company Store
Oxford Feed & Lumber
Pickled Pickles
Rite Aid
RNJ Plaques & Engraving
Scalewatcher
SoapBucket
Three Diamonds Variety Store
Top Grade Vapors                         
Services & Agencies
Neighborhood Services Center
Oxford Library
Oxford Post Office
Oxford Presbyterian Church
Oxford Area Sewer Authority
Oxford Union Fire Company #1
Verizon
Tax Services
H & R Block
Liberty Tax Services
Wellness Centers
Golden Light Wellness Center
Lifetime Nutrition
Send Message to listing owner
Please
log in
to be able to send messages to the listing owner.