• State Police from the Media barracks are investigating the theft of a chainsaw and two toolboxes in Concord Township. Police said the unknown suspect stole the items after entering an attached garage on Spring Valley Road sometime between 11 a.m. and 7 p.m. on Sept. 6.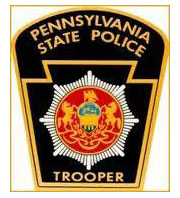 • Police said Renna M. Drumheiser, 24, of Wilmington, was cited following a one-car accident on Smithbridge Road. The report said Drumheiser was traveling east on Smithbridge approaching Leopard Run at 7:18 a.m. on Sept. 2, when the Chevrolet Prizm she was driving went off the road, struck a utility pole and a flower bed before coming to rest on another utility pole. She was uninjured, police said.
• Matthew C. Pantellas, 38, of Newtown Square, was cited for driving too closely following a Sept. 7 accident on northbound Route 1 in Concord Township, according to a police report. That report said Pantellas rear-ended another vehicle that was stopped for a red light at Cheyney Road.
• No one was injured, but a 19-year-old driver was cited after the vehicle he was driving ran off Ring Road in Chadds Ford on Sept. 9. Police identified the driver as Patrick J. Rush of Chadds Ford. According to the police report, Rush failed to properly make a right turn in the road and struck an embankment. The Chevrolet Cavalier then overturned.
• Someone entered a work van parked at the Texas Roadhouse Restaurant in Concord Township and stole approximately $4,000 worth of tools, a police report said. The incident happened sometime between 7 and 9 p.m. on Sept. 11.
• Southern Chester County Regional Police said Nichole Kennedy, 42, of Landenberg, was arrested and charged with violations of the Controlled Substance, Drug, Device, and Cosmetic Act, as well as with DUI (Controlled Substances) and related traffic offenses, after the Honda SUV she was operating was stopped for equipment and registration violations. The incident occurred on Aug. 28 at approximately 1:39 p.m. in the 300 block of Center Street, in New Garden Township. Upon making contact with Kennedy, police said they observed evidence of suspected drug use in plain view.
• Billie Jean Guinn, 50, of Oxford, was arrested on charges of retail theft, criminal conspiracy to commit retail theft, and receiving stolen property, according to a police report. Guinn is accused of conspiring with a male accomplice to steal more than $450 of beauty care items from the CVS store, at 730 Newark Road, in New Garden Township. The crime happened on Aug. 8 at approximately 14 p.m. and was captured on the store's surveillance cameras, police said.
See Contributors Page http://chaddsfordlive.com/writers/
Comments
comments