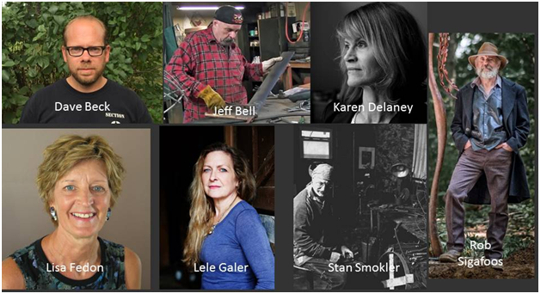 This weekend starts off with an exciting steel sculpture show in Kennett Square. "The Magic of Metal: The Transformation of Steel to Fine-art Sculpture" opens at Vinewoods Forge located at 376 West Street Road in Kennett Square.  Artist sculptor Rob Sigafoos leads the list of 7 highly regarded metal sculptors including: Stan Smokler, Dave Beck, Jeff Bell, Karen Delaney, Lisa Fedon, and Lele Galer.
Rob Sigafoos says that he "is honored to have these six spectacular metal artists showing their work at the Vinewoods Forge studio this weekend."  Rob is famous for his beautiful sign that he made with Katee Boyle for Philter in downtown Kennett Square. Lele designed the large heart sculpture that was outside Mala Galleria for half a year and now found its home at the Kennett Square Creamery. Stan Smokler is an internationally famous steel sculptor who has taught, mentored and inspired most of the new metal artists on the East Coast. This is an exciting sculpture show for anyone who loves metal sculpture.  The Magic of Metal show reception is Friday November 11 from 6 to 8 p.m. and continues Saturday November 12 from 10 a.m. to 5 p.m.
Also this weekend in Kennett Square, November 11 to 13, Galer Estate Vineyard and Winery is celebrating their 5th year anniversary with a combination of art, music, food and wine events, including an art show by painter, metal sculptor and co-owner Lele Galer in the fermentation room at the winery. The winery is located at 700 Folly Hill Road in Kennett Square. Open on the weekends only, Sundays usually have art events and pop up art shows from 2 to 6 p.m.
This Saturday, from 10 a.m. to 3 p.m., The Episcopal Church of the Advent, at 401 North Union Street in Kennett Square is having their annual Artisan Fair. Fifteen artists and artisans will be showing and selling their work, including silver jewelry by Hattie Weselyk, pottery by George Watson and Frank Downer, woodwork by Greg Teter, fused glass work by Patsy Keller, as well as paintings, photography, drawings and more. This is a very nicely organized art event with something for everyone on your gift list.
In West Chester, Church Street Gallery at 12 South Church Street has its opening reception for respected outdoors painter Elise Phillips, entitled "Beauty in the Open." The cocktail reception is this Friday November 11th from 5 to 9 p.m., and the show continues through December 3rd.  Elise Phillips's work is shown in many galleries up and down the east coast, from Martha's Vineyard to Maryland. She is considered to be a contemporary impressionist painter, who focuses on seashore and rolling hilled vistas, and the people and animals that inhabit the bucolic Chester County landscape.
In Aston, Heron Studios holds its holiday art show and sale November 11 through 13 and 19 and 20, The opening reception 6 to 9 p.m. on November 11. Fifteen local artists will be exhibiting and selling their work that ranges from paintings, to jewelry, ceramics, wood, sculpture, fiber and more. Heron Studios is a collective of working artist studios in an old industrial building at Red Hill and Mount Road in Aston. It is a cool space with a great vibe and draws many hundreds of art lovers and holiday shoppers every year for this great annual art event.  It is just about 5 minutes off of Route 1, and they have plenty of parking.
Before this weekend's art happenings, check out Blue Streak Gallery in Wilmington for their annual "Clothing Trunk Show"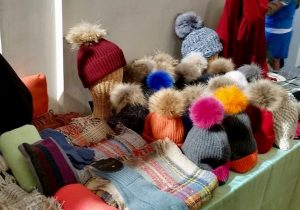 Wednesday November 9 from 1 to 6 p.m. and Thursday November 10, from 10 a.m. to 2 p.m.   Blue Steak Gallery has monthly featured fine artists in their main gallery, but they also have a very fun, eclectic selection of handmade clothing, jewelry and fiber art. Owner Ellen Bartholomaus has a great eye and is sure to make this event lots of fun for all the attendees. This would make a great evening out with your gal pals, maybe to celebrate an election?
On the Main Line there are two great art events this Thursday.  The Main Line Art Center's community exhibition and fundraiser preview party for "Flip Side" is this Thursday November 10th from 6 to 8:30 p.m.  The Main Line Art Center is located at 746 Panmure Road in Haverford, PA, and the show continues through November 19th. "Flip Side" features all 8" x 8" paintings at $40 each, by hundreds of artists, professional painters, student artists and celebrities "Flip side" means that the names of the artists are not revealed until you purchase the painting. That sounds like fun! The preview party will have food, live music, locally made spirits, and lots of evening surprises including a gift bag stuffed with over $100 worth of local certificates and treats. Tickets are $40 in advance or $50 at the door, and proceeds benefit the Main Line Art Center's programming, including their scholarship fund.
Also on Thursday on the Main Line in Rosemont, local abstract painter and art teacher Eo Omwake has a solo show that opens this Thursday November 10th from 4 to 7 p.m. at The Lawrence Gallery at Rosemont College. The gallery is located at 1400 Montgomery Avenue in Rosemont, on the Main Line.  If Eo's opening starts at 4 p.m., you could pop in there first before heading over to the Flip Side party!

Lele Galer is an artist who has chaired numerous art shows, taught art history and studio art, public art and has chaired, written and taught the Art in Action Art Appreciation series for the UCFD schools for the past 12 years. She worked at the Metropolitan Museum of Art, and wrote for the Associated Press in Rome. She has been dedicated to Art History and art education for most of her adult life. Lele and her husband Brad own Galer Estate Winery in Kennett Square.
Comments
comments