• Residents in the Unionville-Chadds Ford School District may offer their views on the possibility of the district changing the start times for high school students. The Chester County Intermediate Unit and Unionville High School students have been studying the issue for more than a year. No decisions have been reached, but residents may take part in the School Start Times Committee, by going here , or offer their opinions in a survey located here.
• It's Music on the Brandywine at the Brandywine River Museum of Art on Thursday, Oct. 6, from, 6 to 9 p.m. This popular program continues with performances by three accomplished musicians:  Ayano Ninomiya, violin; Clancy Newman, cello; and Alexandre Moutouzkine, piano. Admission is $20 for members; $25 for non-members and $10 for students.
• Darlington Arts Center in Concord Township presents a free public exhibition of paintings by local abstract artist Colleen Brand. A reception will be held on Friday, Oct. 7, at 6 p.m. The award-winning Philadelphia-based abstract artist says that she is "inspired by small moments of daily life and the environment that surrounds me." The show will be open to the public through March. Gallery hours are Monday through Friday 9 a.m. to 9 p.m. and Saturday from 9 a.m. to 4 p.m. For more information, go to www.darlingtonarts.org or call 610-358-3632.
• Vote for your favorite chili in the 14th annual West Chester Chili Cook-Off hosted by the West Chester Rotary Club. Enjoy games, a decorating booth contest, live music, and over 40 local vendors in addition to some delicious chili made by local participants. Proceeds benefit local, national, and international philanthropies. The event runs from 10:30 a.m. to 3:30 p.m. on Sunday, Oct. 9.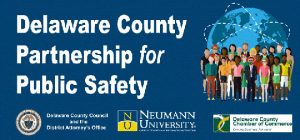 •The Delaware County Partnership for Public Safety will hold a special public safety program on Tuesday, Oct. 11, from 9 a.m. to noon entitled "Embedding a Culture of Safety in Day to Day Life: From the Workplace to Daily Activities." Interested individuals are invited to attend and register on behalf of Delaware County Council, District Attorney Jack Whelan, Neumann University's Center for Leadership, and the Delaware County Chamber of Commerce. Attendees will have the opportunity to learn about real world, practical solutions that will help make their companies, schools, health care facilities, and other organizations safer. Registration is free and open to the public, however space is limited to the first 300 registrants. Go here to register http://neumannpublicsafety.com
• There will be a rededication of the Chadds Ford Vietnam monument at 1 p.m. on Oct. 15 in the green area on the Chadds Ford side of the Brandywine Mills — Wegmans — complex. The memorial, initially dedicated in November 1966, is believed to be the first memorial dedicated to those who served in that war.
• Come explore fears, lore and haunted tales from the Colonial era during the Tavern Talk on Oct. 13 from 7 to 9 p.m. at the Chadds Ford Historical Society's Barns-Brinton House, a historic watering hole. Entitled "Very Superstitious! Fears, False Notions & Fables," the program will include performances by colonial magician Levram the Great, fortune telling, ghost stories, superstitions and other surprises Admission is $15 for non-members and $10 for members. Tickets must be purchased in advance over the phone, in person or online as space is limited. All attendees must be 21 and older. For more info on the CFHS or to purchase tickets, call 610-388-7376, email info@chaddsfordhistory.org or visit www.chaddsfordhistory.org.
• Dig into history at Newlin Grist Mill on Saturday, October 15, from 10 a.m. to 3 p.m. as the site celebrates and participates in International Archaeology Day. Members of the public are invited to assist professional archaeologists with excavations. Current excavations focus on the area of the property between the 1704 Grist Mill and the site's archive building, originally a general store. This event is free to the public and open to all ages. No reservations are required. If you would like to help out with the dig, be sure to wear clothes that can get dirty and close-toed footwear. Bring work gloves if you have them; the site has a limited number of pairs to lend. For more information about getting involved with public archaeology at Newlin Grist Mill, call the site at 610-459-2359. To learn more about International Archaeology Day, visit https://www.archaeological.org/archaeologyday.
• La Comunidad Hispana wants to extend thanks to its sponsors, volunteers, and participants, who raised more than $25,000 at the debut of the LCH 5K and Family Fun Walk on Sept. 25 in Anson B. Nixon Park. The money will support LCH's direct services. More than 100 participants of all ages enjoyed the events, which included fun health activities, organized by West Chester University students, and post-race entertainment by the band El Mariachi Flores, which was sponsored by The Hadley Fund.
• Concord Township residents can recycle electronics, shred documents, donate used clothing and other household items during a township recycling day on Oct. 15 from 8 to 10 a.m. at the Public Works Garage, 675 Smithbridge Road. Township igloos will be available for drop-off of paper, cardboard, glass, aluminum, plastics (#1 PET & #2 HDPE) and inkjet cartridges. No smoke detectors, large appliances, projection TVs, fluorescent bulbs, loose batteries or hazardous waste/liquids will be accepted. Residents will also have the chance to sign up for Leaf Pick-up Day, which will take place on Wednesday, Nov. 16.
• Ceremony cancelled. Westtown Township supervisors cancelled a previously scheduled gravestone ceremony honoring Revolutionary War dead on Oct. 15. According to an email sent out by Historical Commission Chairman Dave Walter, supervisors made their decision based on the opinion of neighbors: "This action was due to an outpouring of angry residents who thought the markers made their neighborhood look too much like a cemetery."
• Delaware Wild Lands is offering a wildlife at night event, Discover the Darkness: The Secret World of Nature at Night on Sat, Oct. 15, from 6:30 to 9 p.m. at Taylors Bridge Roberts Farm, near Odessa. Nature experts will teach you about Dark Matters during this full moon experience. Learn to identify bugs and birds, eavesdrop on frogs, and enjoy a bonfire with snacks, cider, and s'mores. Admission is $5 for adults; kids under 12 are free. Bring a flashlight or headlamp, a chair and a jacket or blanket. For tickets go here.
• Crozer-Keystone Health System will host a free community-shredding event in partnership with Shred-it, the world's leading on-site document destruction company, on Saturday, Oct. 15, from 9 a.m. to noon at Crozer Brinton Lake in Glen Mills. The event will take place at 500 Evergreen Drive in the front parking lot of the Crozer Medical Plaza and Crozer-Keystone Regional Cancer Center at Brinton Lake, near the intersection of Routes 1 and 202. Each vehicle is limited to a maximum of three file bins or five grocery bags, and individuals are asked to remove all binder clips and paper clips prior to shredding. This event is rain or shine.
• Throughout the month of October, P.J. Whelihan's is celebrating the 10th birthday of its signature private-labeled brew, P.J.W. Copper Lager, with "Pour X More."  Brewed exclusively for the restaurant group by Victory Brewing Company, P.J.W. Copper Lager is a Vienna-style lager that started out as the 30th most popular beer – out of 35 choices – and is now the second most requested brew. The festivities will include drawings and contests; for more information, visit https://www.pjspub.com/pourxmore/.
• The Delaware County Studio Tour, a free opportunity to visit 45 artists at work on Saturday, Oct. 15, and Sunday, Oct. 16, has charted three courses that will guide visitors across the county. While the final destination is the art, these routes are designed with the journey in mind, traversing rolling hills and scenic vistas. Bring the day full circle when you hang art you purchased in your home, remembering the experience and the day when art was everywhere. Three routes to all 17 studios can be viewed here.
See Contributors Page http://chaddsfordlive.com/writers/
Comments
comments