Contemporary American luminist Timothy Barr will be showing new works in a solo exhibition at the Somerville Manning Gallery Sept. 16 through Oct. 15.  An opening reception for the artist will be held on Friday, Sept. 16 from 5:30 to 7:30 p.m.
Timothy Barr paints with a heightened sense of the relationship between color and light, infusing natural images with a serene and meditative radiance. He creates fine oil paintings of the colorful Pennsylvania countryside, including picturesque views of the Brandywine region and Southern Berks County; finding inspiration from his explorations of these specific landscapes.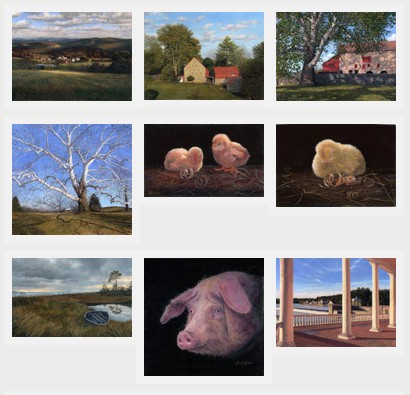 Click picture above to see pictures of the whole exhibit.
Row 1: Vermont Landscape, Oley Valley, Quaker Barn at Stroud Preserve
Row 2: Skin and Bones, Sisters, Single Chick
Row 3: Silent Hope in Empty Boat, Piggy, Philadelphia Water Works
Timothy Barr's oeuvre celebrates the structural and elemental components of the Barbizon School. "I gravitate to the color and light of these 19th century painters. I use what they brought to the art world as a departure point and by adding my own sense of light and color I can create a new way of seeing this world."
Growing up in rural Pennsylvania in an artistic family, Barr always felt a strong connection with the Brandywine area. His love and understanding of nature is strongly represented in each of his paintings. Special attention is given to his technique, where he renders the application of thin layers, or glazes, of oil paint, to create complex colors and a luminous glow, which are trademarks of his classical approach. Barr's evolution of color paired with his meticulous brushwork result in strikingly realistic images.
The Somerville Manning Gallery is located in Breck's Mill just off Route 52 in Greenville, Delaware.
Hours are Tuesday through Saturday from 10:00 to 5:00.
Tel (302) 652-0271
www.somervillemanning.com

Comments
comments