Thomas Patrick O'Dea Sr., of Manchester, Vt. and Fort Myers, Fla., died suddenly on Oct. 18, in Manchester. Tom was born in Westwood, N.J. to Bessie McLaughlin O'Dea and Hon. Arthur J. O'Dea on June 19, 1940.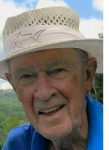 You would never hear it from Tom, but he was a remarkable three-sport athlete at St. Cecilia's High School, and one of the top quarterback-recruits out of New Jersey, who was coached briefly by Vince Lombardi. Tom was offered scholarships to play football or basketball at Yale, Holy Cross and Iowa State. However, Tom chose a basketball scholarship to Georgetown, knowing his long-standing desire to be a doctor was best assured by a degree from Georgetown, thus earning the nickname "Doc" as a freshman according to his teammate and friend Paul Tagliabue. Tom excelled at Georgetown, being a three-year player for the Hoyas, having his best season his senior year.
Upon his graduation, Tom attended the New Jersey College of Medicine, graduating in 1967, which has since become the Rutgers New Jersey Medical School. He then completed his residency at Hahnemann University Hospital in 1972 where he would later continue his passion educating residents as an associate professor.
Tom served in the Army and was honorably discharged as a major on June 7, 1976. Tom practiced at General Surgery Associates with his long-time colleagues and friends Wilhelm Gerhard, Edward Russell, and Scott Harad. Their practice was affiliated with Crozer-Chester Medical Center, Delaware County Memorial Hospital, and Riddle Memorial Hospital. Over the next 40 years as a surgeon, Tom, again, excelled, becoming one of the top general surgeons in Pennsylvania and serving as Chief of General Surgery for many years at Crozer-Chester Medical Center. In addition to serving as Chief of General Surgery, Tom also served a two-year term as chief of medical and dental staff. Family and friends all understood this: Tom was happiest in the operating room.
A devoted father, Tom raised his family in Chadds Ford, and upon his retirement, he transitioned to wintering in Fort Myers, Florida and summering in Manchester. Tom's favorite pastime was spending time with his adoring wife of 24 years, Madalene (Maddy), and playing golf and creating so many fond memories with Maddy and their countless friends first at Concord Country Club in West Chester, and then, upon retirement, at Verandah Country Club in Florida and Manchester Country Club in Vermont.
Tom's greatest joy, by far, was his large family. His four sisters and two brothers were a constant source of love and support throughout his entire life. Nothing filled his heart with delight as the annual boisterous and laughter-filled gatherings he shared with them.
Tom is survived by his brothers, Arthur O'Dea of Arlington Vt., and his wife Bobby, Joseph O'Dea of Arlington, Vt., and his wife, Sandy, and by his sisters, Anna O'Dea Morris of Basking Ridge, N.J., Maureen (Reeny) O'Dea Feeney of Estero, Fla., and her husband Owen, Elizabeth O'Dea Kennedy of Tinton Falls, N.J., and Susan O'Dea Boland of Virginia Beach, Va., and her husband, Bookie. A faithful father, Tom will be deeply missed by his three children: Hon. Thomas O'Dea and his wife Kerry, Patrick O'Dea and his wife, Amy and Kathryn O'Dea Callahan and her husband, William, as well as his two step-children Michael and his wife, Myranda, and Jennifer and her husband Ryan. Tom also leaves twelve loving grandchildren/step-grandchildren: Kiera, Tommy, Liam, Caroline, Chloe, Michael, Devin, Graeme, Addison, Michael, Jr., William, and Sophia. Tom was predeceased by his adored son Daniel, who was born on Sept. 4, 1974, and died May 27, 1979.
A small private ceremony for immediate family will be held in Manchester, Vt.. A memorial mass will be held on Friday, Nov. 25 at 2 p.m. at St. Aloysius Church, 21 Cherry Street, New Canaan, Conn.
In lieu of flowers, please consider donating to one of the following charities or a charity of your own choosing in his memory: Second Chance Animal Shelter or the Gulf Coast Humane Society, c/o Brewster-Shea Funeral Home P.O. Box 885, Manchester Center, VT 05255. To send the family personal condolences please visit www.sheafuneralhomes.com.

See Contributors Page https://chaddsfordlive.com/writers/