The Chester County Democratic Committee unanimously elected Charlotte Valyo of Schuylkill Township to serve the remaining one-year term as Chester County Democratic Committee Chair. Jerry Pyne of East Whiteland Township will now serve as CCDC Vice-Chair. Theresa Soja of West Bradford won her election as Zone Leader Caucus Chair. All three join the five-member CCDC Executive Board this week.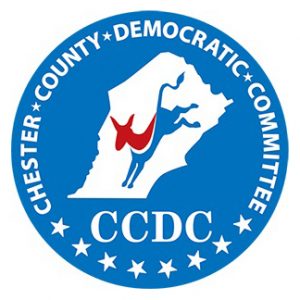 Valyo and Pyne replace Dick Bingham and Marsha Peltz who announced their retirements in March, effective May 31. Valyo, Pyne, and Soja will each serve one year with a countywide quadrennial Organization Convention set for next summer, in accordance with CCDC's bylaws, for the next Executive Board term.
Valyo most recently served as Zone Leader Caucus chair, a coalition of the 20 geographic zones that cover every voting precinct in the county. She served on the five-member Executive Board and as the Zone 11 Northern Chester County Zone Leader.
Pyne served as CCDC's systems administrator and as Zone 13 East Whiteland/Charlestown Dems Zone Leader. Soja was elected as Zone 7 Bradford Dems Zone Leader. All have played a key role in Chester County Democrats' incredible rise.
Now former Chair Dick Bingham said, "I am extremely proud of our neighbors who took the chance to run for political office, many for the first time. We all care deeply about our community. Politics is a rough business and CCDC is an all-volunteer organization. At the top, we "worked" 52 weeks a year, nights and weekends as our trajectory soared. In my mind, that just became untenable. I am thankful for Charlotte's commitment to serve out my term and know that we are in excellent hands as we march to victory in November. She has my unwavering support."

See Contributors Page https://chaddsfordlive.com/writers/
Comments
comments