Pennsylvania State Police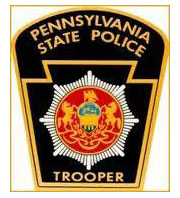 • State police from the Media barracks continue to look for a car and driver involved in a fatal hit and run on Route 202 Wednesday, Oct. 3, 2018 at 9:45 p.m. A motorist struck and killed a pedestrian near Pyle Road. According to a report, the striking vehicle is a platinum white, 2009 – 2010 Ford Edge in SEL or Limited trim level. This vehicle is believed to have sustained damage to its right front end and had an inoperable right headlight as a result of the collision. The vehicle proceeded to make a U-turn at the intersection of Route 202 and Naamans Creek Road, then continued south into Delaware. The last known location of the vehicle was southbound on SR-202 in the area of Powder Mill Road, New Castle County. Anyone with information regarding this incident or who may have had contact with the suspect vehicle is asked to contact the Pennsylvania State Police, Media Barracks - Criminal Investigation Unit at 484-840-1000 and ask to speak with Trooper Matthew B. Smith.
• Police said Lorraine M. Norris, 73, of Kennett Square, was cited following an Oct. 2 accident on Route 202 where it intersects with Oakland and Concord Country Club roads. The report said Norris was driving north in the left lane on 202, ran a red light, and struck another vehicle. EMS personnel transported Norris to Chester County Hospital for treatment of injuries, police said.
• A 78-year-old woman at Maris Grove was seemingly conned out of almost $2,500 in September. Police said the victim was contacted by someone posing as a Microsoft employee through a fraudulent website that her computer was damaged and that she needed to contact a bogus bank employee who had her transfer $2,480 to a fraudulent account. Police are investigating.
• Police are investigating a rear-ender accident on State Farm Drive at Route 202 in Concord Township. The offending driver fled the scene. According to the police report, one car was stopped at the traffic light in the right-hand land lane of State Farm Drive before making a right turn onto 202 when it was struck from behind.
• A 30-year-old man from Upper Chichester, not identified in the report, was arrested for DUI following a traffic stop on Naamans Creek Road at Pyle Road on Sept.22. The arrest was made at 1:38 a.m.

See Contributors Page http://chaddsfordlive.com/writers/
Comments
comments