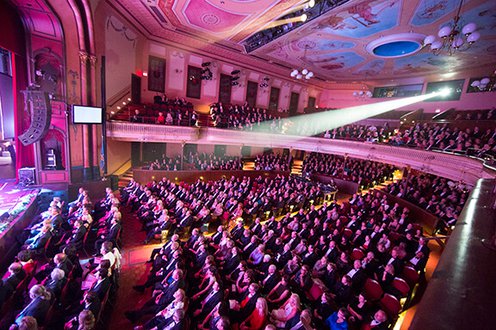 The Board of Directors of The Grand Opera House issued the following statement regarding cutbacks.
The Grand Opera House in Wilmington, like most nonprofit organizations across the country, finds itself in a very challenging position. As directors of this cherished institution, our primary responsibility is to preserve The Grand and the performing arts in the State of Delaware, not only for the present but also for future generations to come.
As we prepare to celebrate the 150th anniversary of The Grand Opera House in 2021, it is imperative that we do everything possible to save this Delaware treasure. In challenging times, and these are some of the most challenging we've ever faced, difficult decisions must be made and these choices are some of the most distressing we've ever faced.
Starting in August 2020, The Grand will be forced to scale back our operations and staff significantly, since we are unable to produce shows for the foreseeable future. Acting upon what is hopefully the worst-case scenario for the organization does not come easily. We understand that these realities will hurt our colleagues, but these people are more than that … they're our family and friends, which makes it even all the more painful. They have given tirelessly over the past years to provide performing arts in Delaware and for that, we will never be able to thank them enough.
Please know that The Grand's leadership — staff and volunteer — did everything possible to avoid this. We have applied for every emergency assistance opportunity and grant for which we were qualified. We've asked our ticket buyers to donate their ticket value rather than receive a refund and they have generously responded, for which we are eternally grateful. We have even taken the extraordinary measure of spending a significant portion of our endowment to meet current obligations. But with no shows to produce, finances cannot improve in the short term.
As an organization, we are heartbroken that this virus has taken away our ability to put on shows. Not ever wanting to jeopardize the health of our employees or patrons in order to put on a live performance, we simply can't do it safely right now, which is the driving force behind this decision. Live performances are one of the oldest forms of entertainment and watching a live performance is exactly what we all need right now…a distraction from the stress of life around us. Unfortunately, because of the situation we find ourselves in, we are unable to provide that relief.
We know there will come a day when we can once again put on shows safely, which is why it's imperative that we preserve The Grand for that day so we can do what we do best…entertain and enrich the community!
Our goal now?  We recognize our role as the symbolic beacon of hope for the economy of Wilmington and the arts community.  Now we will come together to raise the funds necessary to turn the lights back on.  When it is safe to do so, we need to be in the position to lift the spirits of the community, as we have for nearly 150 years.

Rich Schwartzman has been reporting on events in the greater Chadds Ford area since September 2001 when he became the founding editor of The Chadds Ford Post. In April 2009 he became managing editor of ChaddsFordLive. He is also an award-winning photographer.
Comments
comments