Pennsylvania State Police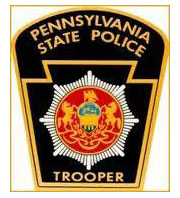 • Police said Steven J. Hadler, 40, of Avondale, was injured and cited after the motorcycle he was riding ran off the road and into a guardrail in East Marlborough Township. The accident happened on June 13 on Upland Road east of Byrd Road. According to the report, Hadler failed to negotiate a left-hand curve in the road. The bike went down on its left side, then slid into the guard rail on the right side of the road. Longwood Fire Co. EMS transported Hadler to Jennersville Hospital.
• State police arrested a 28-year-old woman from Swarthmore for drug possession following a traffic stop in East Marlborough Township on June 19. Police said the woman, not named in the report, was stopped for numerous traffic violations on Baltimore Pike at Ladbrokee Lane. The investigation revealed she possessed a marijuana vaporizer, a small amount of cannabis and some paraphernalia.
• Eugene K. Boddy, 44, of Kennett Square, was cited after he crashed into a utility pole on Parkerville Road in Pennsbury Township on June 6, a police report said. According to that report, Boddy also fled the scene after the noontime accident. The report also said Kennett Square police arrested Boddy on a warrant for failing to appear in court for a previous DUI arrest.
• State police arrested three teenagers from New Jersey on drug possession charges in Kennett Township on June 14. The teens, an 18-year-old female from Westmont, N.J., and two 19-year-old males from Audubon and Mount Efraim, were found with marijuana and alcohol when police stopped to check on a vehicle and a tow truck on the shoulder of Route 1 at N. Walnut Road shortly before 11 p.m.
See Contributors Page http://chaddsfordlive.com/writers/
Comments
comments