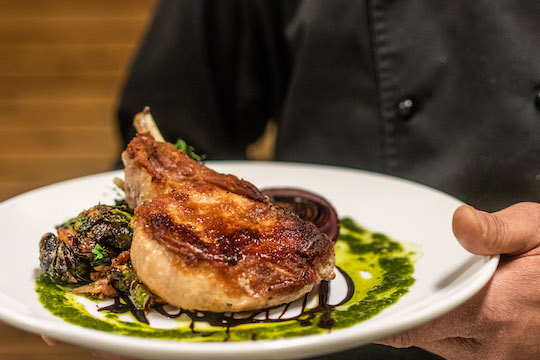 The second annual KSQ Spring Restaurant Week, March 3 to 8, will showcase the creativity of award-winning chefs and the many flavors of Kennett Square. Kennett Square's Restaurant Week offers a wide variety of dining options at over a dozen participating restaurants throughout town. Diners can also enjoy live music at various venues including Kennett Brewing Company, La Verona, The Creamery, Braeloch Brewing, and Grain Craft Bar + Kitchen, as well as the Kennett Flash.
"Kennett Square Restaurant Week is a great way for our town to celebrate its culinary diversity," said Brett Hulbert, chef-owner of Portabellos. "We're a small town, but we have everything from intermezzo sorbets to some of the best tacos outside of Mexico. This is a wonderful opportunity to visit your local favorites or experience a place you've been wanting to try."
With dishes headlining locally-sourced ingredients and a variety of international flavors, there's something to cater to every palate—for adventurous foodies as well as for those in the mood for more traditional fare. Much like a secret menu, diners will be able to try dishes not seen on regular menus.
Restaurant Week will also offer a wide range of dining experiences, and it's the perfect time to try some of Kennett Square's newest restaurants—including Byrsa Bistro, Café de Thai, Roll'Eat Sushi, and the newly expanded Portabellos. Enjoy food, craft-brewed beer, and local music at Kennett Brewing Company and Braeloch Brewing; a leisurely four-course tasting menu at Verbena BYOB; or a three-course-lunch or dinner special with a side of local bands or axe throwing at The Creamery. Victory Brewing is adding special Restaurant Week dishes to their menu to pair with their beers. La Verona, Grain, Kennett Inn, and Kennett Brewing Company are all offering prix-fixe specials for lunch as well as dinner. Mary Pat's Provisions and Roll'Eat Sushi, both in the Market at Liberty Place, have created great value prix-fixe menus as well. For those who would rather enjoy restaurant week in the comfort of their own home, Talula's Table will offer a boxed and ready-to-eat three-course seasonal, farm-to-table dinner to pair with your own wine or beer for a gourmet night in (and you don't have to wait a year to reserve).
"Restaurant Week is an excellent opportunity for area residents and visitors alike to try new places, revisit old favorites, explore the town, and sample the very best our charming historic town has to offer," says Tim Courtney, owner of Mary Pat's Provisions. Come early to enjoy shopping in the town named Best Suburban Shopping Destination 2019 and take in Square Pear Gallery's special culinary-themed art exhibit, "Food, Wine, and Good Times," with work from Jeff Schaller, Dane Tilghman, Al Moretti, and others.
Kennett Square's Restaurant Week promises to be as unique as the vibrant small-town itself, with its historic tree-lined street bustling with independent, locally-owned shops and restaurants. "We're encouraging diners to enjoy restaurants on State Street and also to explore the great options throughout town—like Braeloch and The Creamery on Birch Street and Café de Thai and Victory in the Cannery Row neighborhood," says Lee Mikles, Historic Kennett Square Board member and owner of Grain Craft Bar + Kitchen. "We're also excited about all of the great live music available throughout town to cap off the night, including Amanda and Teddy at The Creamery, The Bones Brigade at KBC, and Marielle Kraft at Grain. In all, there are nearly 20 live music events during Restaurant Week."
Plan your week with a one-stop, user-friendly "menu of menus" listing all Restaurant Week offerings and live music schedules at historickennettsquare.com. Metered parking is free after 5 p.m. On the weekends (Saturday and Sunday), parking is free in all areas of the Linden Street municipal parking garage, just steps from State Street.
Be sure to check out the Historic Kennett Square Restaurant Week Facebook event page for daily chances to win a gift card to participating restaurants.
For more information https://historickennettsquare.com/events/restaurantweek/

Comments
comments